The view from North America: TXF talks to HSBC's Inwha Huh
Inwha Huh is EVP and Head of Global Trade and Receivables Finance, North America at HSBC. At the bank's New York headquarters, Huh caught up with TXF's co-founder Dominik Kloiber to discuss innovative supply chain solutions, the health of the North American market, and the challenges and opportunities created by a new regulatory climate.
Please login to see the rest
X
We are set to return to this global trade hub and bring together a network of buyers, sellers, financiers and facilitators for another year of lively debate!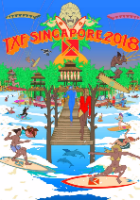 TXF Singapore 2018