The view from Australia: TXF talks to Westpac's Gerry Gannon
Gerry Gannon is the global head of trade finance at Westpac, the bank that he has been with for over three decades. TXF's associate director, Hesham Zakai, spoke with Gerry to get his views on today's market, from the levels of liquidity to promising new trade routes.
Please login to see the rest
X
We are set to return to this global trade hub and bring together a network of buyers, sellers, financiers and facilitators for another year of lively debate!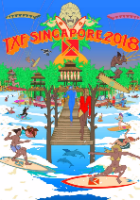 TXF Singapore 2018