Orbian: An introduction to distributed ledger technology
Over recent years, the drumbeat of market and media interest in blockchain applications has increased, with ever more reports of the disruptive promises of the new distributed ledger technologies (DLTs). In this, the first of a series of planned articles, Orbian's Tom Dunn will set out an introduction to the history and key concepts of DLT as related to supply chain finance.
Please login to see the rest
X
We are set to return to this global trade hub and bring together a network of buyers, sellers, financiers and facilitators for another year of lively debate!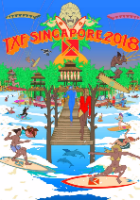 TXF Singapore 2018