UKEF's new box of tricks
UK Export Finance (UKEF) has ramped up its risk appetite with a spate of new product suites, initiatives, and strategies aimed at increasing support for SMEs. TXF spoke with Baroness Rona Fairhead, new UK Minister of State for Trade and Export Promotion at the Department for International Trade (DIT), to find out the reality behind the rhetoric.
The UK government has recently rolled out a handful of new initiates and strategies to boost the total volume of UK exports, with a particular focus on increasing SME engagement. For example, the GREAT campaign – a newly launched export strategy under the Department for International Trade (DIT) – establishes a new marketing plan aimed at engaging with local corporates to support export strategies. And, with a spate of new product suites, UKEF has been mandated as a key tool for implementing that change.
UKEF's latest product is a new bank guarantee which offers SMEs an early payment scheme in a bid to increase SME cash flow and bolster their supply chain. However, this government rhetoric doesn't hide from the fact there's still a long way to go to make access to export finance easier for SMEs, with many still unaware of such product offerings.
Recently appointed, Baroness Rona Fairhead, DIT's new minister for trade and export promotion, aims to raise SME awareness of UKEF cover and other forms of support available to UK exporters in the global marketplace. TXF caught up with Baroness Fairhead to find out her plans for her new role and whether UKEF's platforms, products, and initiatives will make a tangible difference to the accessibility of export finance.
TXF: What is your role as minister of state for trade and export promotion at the Department for International Trade (DIT), and what do you plan to achieve there?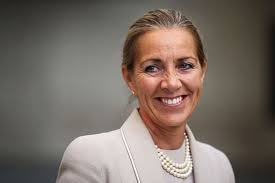 Baroness Fairhead (BF): Although our Department is little more than a year old, it is clear that much good work has been done; we have built on the foundation created by our predecessor departments, prioritised actions and undertaken research, all of which will help us as we clarify our strategic goals.
The opportunity for trade and, in particular, exporting, is enormous. The UK is already home to some of the world's leading exporters, yet the majority of our businesses still have no overseas sales. Just imagine what more can be achieved!
I see it as part of my role to work with everyone at the DIT as we help UK businesses, large and small, and all over the UK to increase their sales overseas.
TXF: How will the GREAT campaign raise SME exporters' awareness of UKEF cover? Are there any success stories yet from this marketing campaign – for example, do you have any figures to suggest that your customer base is growing?
BF: One of the measures the Chancellor announced in the recent Budget was the launch of a campaign to promote UKEF support through the 'Exporting is GREAT' campaign, putting export finance at the heart of trade promotion.
UK companies and their international customers can only really access UKEF support if they know about it and understand its benefits. UKEF's Business Plan for 2017-20 commits to making meaningful contact with many more exporters to help increase understanding and help drive an increase in the number of companies accessing our support. However, awareness of UKEF's services – and export finance in general – remains low, and by putting finance at the heart of trade promotion, we are addressing this as a priority.
In the last 5 years, UKEF has provided £14 billion in support for UK exports, supporting the UK economy, and jobs creation, as well as covering its own operating costs and delivering a return to the Exchequer. Increasing its marketing activities will help us support more companies, delivering even greater more benefits to the UK economy.
TXF: The UK government's export strategy aims to help businesses identify opportunities to export. How will this be achieved, and how does it relate to the wider Great campaign?
BF: As our secretary of state, Liam Fox, has said, our vision is of a UK that can trade its way to prosperity, stability and security. I will be leading on the development of a new, ambitious and inspiring Export and Trade Strategy that will help make this a reality.
I will be working to build an export system in the UK that inspires, engages and supports our businesses, both large and small. We will also be working to open further international markets to UK's companies, and build awareness overseas of the extraordinary products and services that UK businesses can offer.
The export strategy will explore how government can provide better support for new and existing exporters and assist non-exporting businesses to begin to sell overseas. We will assess how our existing services are viewed by our customers and consider new approaches. This includes building on DIT's consortia-based approach as an impactful way to reach out to more businesses across the supply chain, strengthening government-to-government relationships to unlock new export opportunities, better signposting to online and local sources of information, and access to finance, and working with the private sector to ensure all businesses receive high quality export advice.
DIT's Export Strategy and wider trade effort is supported by an ambitious programme of high quality trade events and missions all delivered under the GREAT Britain campaign brand. We are on course to deliver over 650 events and missions this financial year (ending March 2018) – all GREAT branded.
TXF: Currently, UKEF doesn't have a specific product targeted at SMEs. Why is this, and what is UKEF doing to ensure that export finance is more accessible to smaller companies?
BF: UKEF's role is to support exporters of any size and in any sector, and a priority is making sure we have the right products to provide the right support. This is as true for SMEs as it is for large corporates. We have already started to develop services with SMEs in mind: we know that for smaller businesses, cash-flow is an important factor when considering export opportunities. In 2011, in response to the challenges facing SMEs in accessing working capital support in the wake of the financial crisis, UKEF re-entered the trade finance market, with its export working capital and bond support products. Since then, it has provided £585 million of support through these schemes, targeted at smaller exporters.
These include some really impressive small companies, like Queen's Award winner MR Solutions, which makes cutting-edge MRI equipment, and which UKEF helped secure a £1.2 million contract with Sydney University in Australia. Or Barker Langham, a specialist consultancy that delivers cultural heritage projects around the world, which UKEF supported on a project in the Middle East. And finally, Lye Cross Farms, a household name in the UK, which is now growing its business around the world.
Our new bank partnership is designed with UKEF's smaller customers in mind. Allowing SMEs to access finance of up to £2 million directly from their banks makes the process simpler while reducing the time it takes to get an answer from weeks to seconds – on top of the banks' own turnaround times of course. We've also made this support available to companies that are not themselves exporting, but supplying to exporters, because we recognise the huge contributions of the UK domestic supply chain.
Many are taking up these services, but we still have a job to do to increase SMEs' awareness of our offering.
TXF: UKEF has just announced the launch of a new supply chain product to increase the amount of time that suppliers will have to pay for raw materials while ensuring SME exporters secure early payments. How will this product work, and when will exporters be able to use the product?
BF: Supplying to an exporter is a great way for smaller companies to access new markets, allowing them to benefit from the worldwide demand for UK goods and services. However, cash-flow can be a challenge for SMEs, meaning they require early payment when taking on larger contracts. Equally, many larger exporters have hundreds of companies in their supply chains, creating pressures on their own working capital and leading them to seek deferred payment terms from their suppliers.
This new product is a guarantee for banks designed to encourage them to support invoice finance schemes for exporters, allowing their smaller suppliers to access payment early, while the exporter can pay for the supplies over time.
Also of note is the widening of eligibility for UKEF's trade finance products to first tier suppliers to exporting companies. Introduced earlier this year, this product enhancement applies to UKEF's existing working capital and bond support schemes to help exporters' suppliers access working capital loans and contract bonds.
TXF: While the GREAT campaign aims to promote exports, it can also stand accused of contributing to the 'us vs them' mentality surrounding trade in global rhetoric. Are you concerned that this rhetoric promotes trade as a tool of global politics, rather than creating a collaborative approach to export?
BF: The GREAT Britain campaign is the government's flagship marketing and branding platform for the UK both internationally and domestically. The campaign's main aim is to take advantage of the global appetite for UK products and to promote UK goods and services, with a specific focus on USA, Germany and China. Additionally, the Exporting is GREAT programme aims to support SMEs to export for the first time.