Energoatom's Opic-wrapped bonds: A post-ECA gift to borrowers?
Ukraine's state-owned nuclear generator has closed a bond issue for a nuclear waste storage project at a cheaper rate than its parent, thanks to a first-of-its-kind insurance policy from Opic. Could this wrap edge out conventional ECA debt, or are there still gaps in the structure?
Hello stranger, fancy seeing you here…
Unfortunately you've stumbled across our paid-for content but that's not a problem, join the TXF Essentials community today for unrestricted access to:
Daily news and analysis from our TXF experts
Access to TXF data dashboards and Smart Search
Market reports and bi-annual long reads
And much much more…
X
TXF is back in DC! We'll be examining how multilaterals are evolving to fulfil an expanded remit, while maintaining a focus on emerging and frontier market development and infrastructure. Join corporates and leading practitioners in agency finance to debate industry challenges.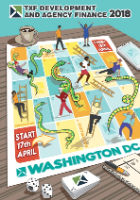 TXF Development and Agency Finance