Trade Finance Market platform launches targeting exporters and investors
A new trade platform has launched - Trade Finance Market (TFM) – targeting both exporters and investors. Based out of Singapore, the founders say the platform "enables investors to earn higher returns through securely financing exporters in emerging markets".
Hello stranger, fancy seeing you here…
Unfortunately you've stumbled across our paid-for content but that's not a problem, join the TXF Essentials community today for unrestricted access to:
Daily news and analysis from our TXF experts
Access to TXF data dashboards and Smart Search
Market reports and bi-annual long reads
And much much more…
X
To kick off TXF Global 2018, we'll be bringing together senior developers, government personnel and investors to focus on project finance deals. Our dedicated Project Finance Day is a must for all infrastructure pro's!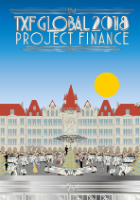 TXF Global 2018: Project Finance