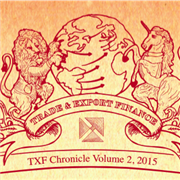 TAG's top 5 dealmakers
TXF recently caught up with the five most prolific dealmakers on tagmydeals to find out a little bit about them, their favourite deals from the first half of 2015, and their outlooks for the next six months. These top taggers cover a broad spectrum of trade financing industries – including export finance, structured commodity finance and project finance – and provide crucial, on-the-ground insight into what the market looks like from the perspective of those actively putting the deals together.
Hello stranger, fancy seeing you here…
Unfortunately you've stumbled across our paid-for content but that's not a problem, join the TXF Essentials community today for unrestricted access to:
Daily news and analysis from our TXF experts
Access to TXF data dashboards and Smart Search
Market reports and bi-annual long reads
And much much more...
}