Trading more than insults: how would Brexit impact trade finance?
All the British EU referendum seems to have been good for so far is trading insults - as emotions run high in the last few days before the historic 23 June vote, and British politics reels from the murder of MP Jo Cox, it is worth taking the time for a more sober, analytical perspective on the Brexit debate.
Hello stranger, fancy seeing you here…
Unfortunately you've stumbled across our paid-for content but that's not a problem, join the TXF Essentials community today for unrestricted access to:
Daily news and analysis from our TXF experts
Access to TXF data dashboards and Smart Search
Market reports and bi-annual long reads
And much much more…
X
The conference will bring together project investors and developers to discuss the financing for low carbon energy and infrastructure projects across Asia, including power, renewables, infrastrcuture and transportation projects.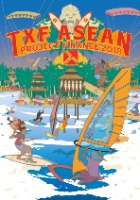 TXF ASEAN - Project Finance 2018