Expert opinion
29 August 2018
Mexico and US strike new trade pact to replace NAFTA
In:
Agri/Soft Commodities, Infrastructure, Manufacturing & equipment, Metals and Mining, Oil & gas, Power, Renewables, Telecoms and Communications, Transport, Waste and water
Region:
Middle East & Africa, Americas, Asia-Pacific, Europe
What does the new trade deal, agreed in principle between the US and Mexico, spell out in the finer detail, and what implications could it have for other trade spats and trade wars that the US has recently instigated? Jonathan Bell takes a closer look and reviews The Week That Was at TXF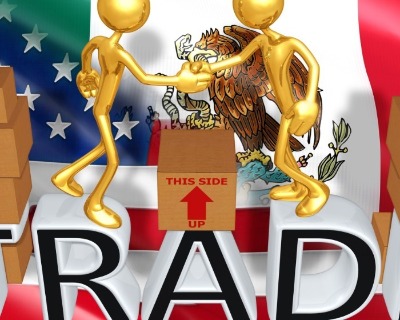 At last some positive news on the trade dispute front. On Monday this week, after negotiations that have dragged on for over a year, the US and Mexico have agreed to a new trade deal! This deal looks likely to replace the 25-year old NAFTA (the North American Free Trade Agreement). Of course, NAFTA includes Canada – but so far this new agreement is only between the US and Mexico.
Well, at least it is a major step forward from what we know so far - although it still isn't sealed and delivered until it is signed by the US president and ratified by US Congress, and that is expected to take place sometime in November.
So, what does this new trade deal spell out in the finer detail, and what implications could it have for other trade spats and trade wars that the US has recently instigated?
The new US-Mexico deal will be valid for a period of 16 years and will be reviewed by both parties every six years for areas of improvement. There is no so-called 'sunset provision', which could have forced a complete renegotiation of the deal every five years or potential death of the pact. The sunset provision had initially been pushed for by the US, and something that both Mexico and Canada have always been opposed to.
Certainly, it can be said that the new deal between the US and Mexico will cool the brinkmanship between the US and Mexico that has been taking place around the whole NAFTA issue. It can now also be used by President Trump as a political tool to demonstrate he, and his administration, have the capacity to re-negotiate and deliver successful trade deals.
Whether this agreement really leads to increased jobs and trade volumes though remains to be seen. However, US Trade Representative Robert Lighthizer has stated: "We're very excited about this agreement. We think it is going to lead to more trade, not less trade." Currently trade between the three NAFTA countries totals more than $1 trillion annually.
Any 25-year old trade agreement is likely to need serious updating, but the way this was put into the cooking pot by Trump over a year ago raises a lot of questions. It would be fair to say that the potential collapse of NAFTA and the adverse impact on jobs has been breeding various degrees of horror within manufacturing and production across North America.
In particular, there has been much focus on the impact for the massive automotive trade and the associated complex supply chains, as well as the export and import of large volumes of agricultural produce between the US and Mexico. Much of the recent trade talks have hinged on these two sectors.
First of all, US auto manufacturers are breathing easier following this agreement, even though it is at this provisional stage. One key element under the new deal will see a change in the 'rules of origin' of auto parts. Currently, regional content of auto parts under NAFTA is set at 62.5%, but this will be increased to 75% under the new deal. This means that some auto parts currently made in China, South Korea or elsewhere would now have to be made in the US or Mexico.
In addition, importantly for US manufacturers, the deal will see some 40%-45% of auto content being made by workers earning at least $16 per hour. Industry analysts say this could well see more jobs being returned to the US and possible wage increases in certain parts of Mexico's auto sector. Also, the deal does not cap imports of light vehicles from Mexico.
Perhaps not surprisingly, auto stocks of US auto manufacturers initially rallied following the announcement of the agreement on Monday. This demonstrates investors' dislike of the uncertainty created by the international trade activities of President Trump.
However, on a further negative front, according to Lighthizer the new deal will not undo the 25% tariffs that the US has imposed on steel and aluminium imports from Mexico and Canada. This is certainly one element of the deal that has not gone down well with the big US auto manufacturers who have had increased costs in this area since the tariffs were introduced. This factor could still hit the share price of the auto producers.
On the agricultural trade front, Mexico is the third largest agricultural export market for the US. Together, Mexico and Canada represent nearly one-third of total US agricultural exports. This amounted to approximately $40 billion last year. So, while US farmers will be celebrating over the Mexico deal, a full agreement including Canada is the real goal.
What will be required now for the whole 'new NAFTA' to be meaningful is to bring Canada on board – not as a separate US-Canada trade agreement, but squarely into the new US-Mexico deal. Until this happens supply chains across the existing NAFTA region will be under threat from disruption.
Strangely, on Monday I quite enjoyed watching the televised phone call between President Trump and the outgoing Mexican President Enrique Pena Nieto. What? I hear some of you say. No seriously, it was interesting to see this, and at times quite amusing, despite it being designed for political flag waving.
Despite the initial technical difficulties, once the telephone call got going it was clear that both presidents were glad that they could finally broadcast the success of the negotiations. Trump stated: "This is something which is very special for our manufacturers and our farmers. This is a very comprehensive agreement, and one of the largest trade agreements ever made. Our negotiators have worked late into the night for many months. We've made it much simpler and better for both countries."
He also added: "This is a big day for trade. It is a big day for our country. We will get rid of the name NAFTA, as it has bad connotations."
While on the issue of bringing Canada in, he said: "We will start negotiations with Canada very soon. We could have a separate deal with Canada, or we could work it into this one. The Canada sector is smaller. Mexico is much bigger." Then he slipped in a remark about Canada having tariffs of 300% on imports of US-produced dairy products and added: "We can't stand for that!"
The agreement between the US and Mexico ramps up the pressure on Canada to do a deal. The US president has also stoked the fire by threatening he could put tariffs on Canadian-made automobiles if Canada did not join the agreement.
Mexico's Pena Nieto said: "This is the result of good negotiations. We wait for Canada to be integrated into the agreement." Later in the conversation, he reiterated: "It is our wish that Canada will be incorporated in all this." Which prompted Trump to stress: "We will start negotiations with Canada imminently and I will be speaking with Prime Minister Trudeau."
Trump even managed to bring the trade war with China into the conversation with Pena Nieto when he announced: "We are also talking to other countries right now. But, it's just not the right time to talk with China right now." This is somewhat disturbing, and one has to wonder if the US president, with this Mexico deal under his belt, will for the time-being at least be more dismissive about negotiations with China.
At the end of the conversation Pena Nieto said to Trump: "I'm extending you an affectionate hug." To which Trump responded: "A hug from you would be very nice." This somewhat remotely reminded me of Tokyo's Harajuku district where on Sundays you see girls in cosplay and placards saying 'free hugs'! Political leaders hugging in cosplay? Well, maybe not!
Exclusive TXF Essentials subscriber content:
Southern Gas Corridor: The funding tap that keeps on giving
Despite Moody's rating downgrade for the $41.5 billion Southern Gas Corridor in 2017 amid ongoing concerns over Azerbaijan's creditworthiness and politics, the scheme has attracted an unprecedented amount of support from DFIs and multilaterals, with commercial lenders and ECAs now flocking into the final funding mix.

In for the long haul: Basel III's impact on export finance
From new rules for sovereign risk exposures to leverage ratio requirements, Henri d'Ambrières, head of advisory services in trade, export and project finance at HDA Conseil, outlines the potential impact of Basel III on provisions linked to export credits.

Multi-sourcing: Latin miners shop around for debt
Improved metals pricing is incentivising miners in Latin America to take mothballed projects back into development. But environmental opposition, labour disputes and pricing cyclicality mean high risk and high cost of debt. Consequently, sponsors are taking a multi-sourced approach to financing, minimising overall cost while maintaining financial flexibility.

ECA Data: Fonzi's facts and figures:
TXF Data's top lending opportunities, latest Category A projects under consideration by ECAs, and provisional CIRR trends are here for this week.

And in brief…
EL Al Israel Airlines seals UKEF-backed facility
El Al Israel Airlines has closed a $124 million UKEF-backed facility to finance the procurement of a Rolls Royce-powered Boeing 787 Dreamliner aircraf...

Nibulon refi downsizes PXF, ups tenor and tightens pricing
Ukraine-based integrated agri trader Nibulon has refinanced its 2017 $90 million one-year pre-export finance (PXF) facility downsizing the…

Mechel signs $1bn refi for PXFs amid debt restructure
Russian metals and mining company Mechel has sealed a $1 billion 4-year loan to refinance its existing pre-export finance (PXF) facilities, with ...

Nord LB's global head of structured finance to retire
London-based Christoph Trestler will retire next month from his role as global head of structured finance at Nord LB as the structure in the upper ech...

Pacific Alliance eye infra fund for PPP projects
Chile, Colombia, Mexico and Peru have agreed to set up the Pacific Alliance Infrastructure Fund (PAIF) to finance PPP projects in their countries...

UK's Moray East offshore wind farm mandates banks
Sponsors of the Moray East 950MW offshore wind farm in Scotland - EDP Renewables (57%) Engie (23%) and Diamond Generating Europe...

Rawlings leaves Deutsche to join Jefferies
London-based Peter Rawlings has left Deutsche Bank as director of energy and infrastructure finance for EMEA to join investment bank Jefferi...

AirTrunk seals data centre expansion loan
AirTrunk, a specialist in hyperscale data centers in the Asia-Pacific region, closed a A$850 million ($621.6 million) financing on 20 August to fund t...

More details on Marcobre's copper mine loan in Peru
Peruvian mining company Marcobre signed a $900 million ECA-backed facility on 15 August to finance construction of the Mina Justa copper mine in ...

Louis Dreyfus Asia upsizes revolver
Louis Dreyfus Asia signed a $600 million three-year revolving credit facility on 6 August after the deal was upsized from an initi...