Expert opinion
15 September 2021
Getting real with physical commodities
Region:
Middle East & Africa, Americas, Asia-Pacific, Europe
It has been a long time and much has happened since we held our last physical global commodities event. But come 7-8 October we are back in Geneva and addressing the realities of the commodity finance market today in our hybrid event.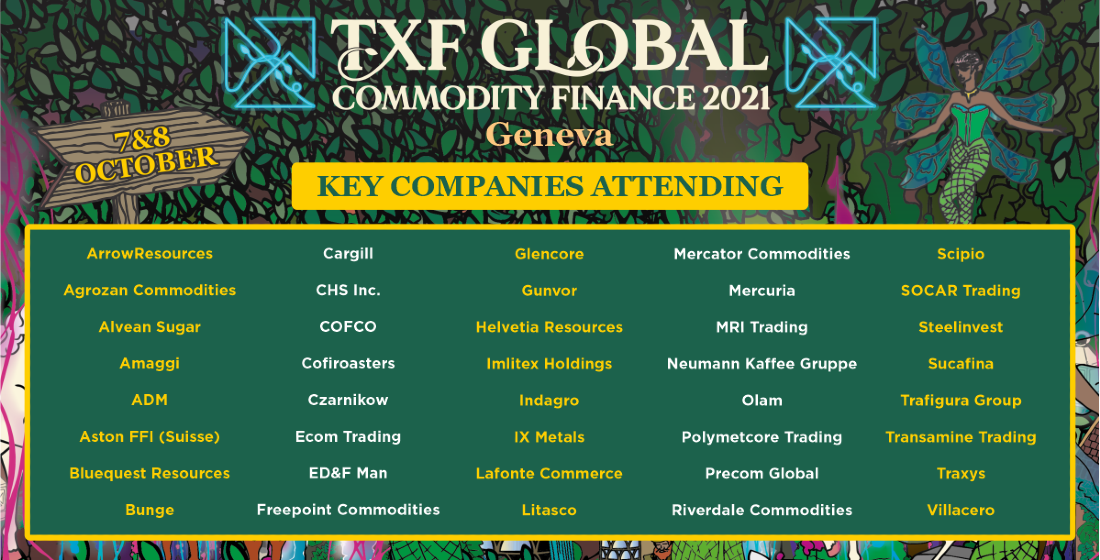 When was the last time you were at a proper physical conference? In my case it was back in December 2019 – nearly two-years ago! And the most recent TXF commodity finance full-blown physical event was in October 2019 in Geneva. So much has happened since then and the world of commodity finance has not only been both shaken and stirred, but in some places dumped on its head!
But now we are in commodity boom time! A range of commodities are at record prices. Many traders are making record profits. The banks and non-bank financiers still in the game are often commanding higher margins. And the business is changing as we get seriously real on digitalisation, ESGs and CSR (see below). So, what better time to meet and discuss the key issues?
Sure, at TXF, we were probably the first in this specialised media sector to hold full-blown virtual events with networking, meeting rooms and the like – with our first full virtual event taking place in April 2020. We even developed our own virtual event platform – Kujenga Technology Solutions – which is running strong and now not only operates for TXF, but also for our project finance sister company Proximo and for our DFI financing arm Uxolo, as well as being white-labelled for many third-party entity events also.
The ability to host events and discuss crucial issues virtually has been an absolute necessity and a godsend over the past 18 months. But now, in certain parts of the world (particularly in Europe) as many populations become majority double-vaccinated we are very fortunate to have the opportunity to meet once again within a physical event – and TXF's first foray back on this front is our Global Commodities Finance Geneva 2021 event on 7-8 October. This will be a hybrid event, so firms that are still unable to travel can also tune in virtually.
Geneva, and certain other key towns in Switzerland, are centres for commodity traders, producer-traders and financiers. After such an interruption to the physical format, the event is being welcomed with open arms by many in the sector. And like myself, many long for the opportunity to meet clients, business partners, potential new partners, develop new business and get back to the networking that is an intrinsic part of the commodity finance sector.
The TXF Geneva event is sponsored by Citi, Deutsche Bank, ING Bank, MUFG, Bank of China, Credendo, Carbon Chain, Komgo, Pole Star, Reed Smith, SCCF, SMBC, BPL Global, Commerzbank, Rabobank and Mitigram.
The event is also being held in association with the Swiss Trading & Shipping Association (STSA), Commodity Club, Commodity Trading Association (CTA), Trade Finance Global and Wista Switzerland.
A fantastic number of trading companies will be present at the Geneva event including: ADM, Bunge, Cargill, Cofco, Czarnikow, Ecom Trading, ED&F Man, Freepoint Commodities, Glencore, Gunvor, Louis Dreyfus, Mercuria, Socar Trading, Steelinvest, Sucafina, Trafigura and Traxys – to name a few.
Everybody I'm sure is gearing-up for some keen discussions about where the commodity trading and financing sector currently is and how it has changed over the past couple of years. The conference programme will not only tackle many of these key themes, but also look to explore how we can deal with the evolving sector, the new-norm as well as new avenues and potential opportunities where we may expect to see growth.
Undoubtedly we are in difficult times – but we are also in exciting times. Yes, Covid is a global problem, and it needs a global solution. This is not easy in the vastly different worlds of 'the haves' and 'the have-nots'. Much more needs to be done to get vaccines into less developed countries. The imbalance is not made any easier though when certain drug companies – such as Pfizer etc – increase the prices of their vaccines, so that they are almost 10 times the cost of the Astra Zeneca vaccine – which sells at cost.
Embracing the commodity boom
Through Covid though, global trade has gradually ramped up again – so much so that container shipping lines are struggling with vessel management let alone finding enough containers in the right places.. And on the bulk commodity front, shipping costs are at an 11-year peak. Commodities themselves are experiencing significant increases in prices, whether it be coal, copper, cobalt, coffee or lithium. And as I write this even crude oil sits at around $73/barrel for Brent, while at the same time natural gas prices are surging and there are forecasts of gas shortages this winter in Europe in particular.
Then, we look at some of the fallout of 2020 and the way some banks exited the commodity business eg ABN Amro and BNP Paribas. Pressure from boards has also forced others to noticeably pull back to so-called 'core business'. So, if I was running a bank, or a non-bank financier, I would just think fantastic! More opportunities for us! But of course much talk now centres around many of the serious issues of risk mitigation, risk architecture, building alliances, partnerships, working with fintechs, digitalisation, DLT-backed networks, and of course ESGs and CSR.
We will focus on many of these in Geneva. And in our panel on tackling the ESG dilemma, we will look at some burning questions, such as:
• Do countries have access to low-carbon technologies and the raw materials to expand green sectors? Which sectors cannot decarbonise ahead of the carbon border tax?
• How sustainable can supply chains realistically be, particularly in relation to their social impact?
• What is needed for greater transparency with regards to ESG initiatives? How can approaches differ on a regional basis?
On this panel will be: Olivier Boujol, VP & Global Head - Structured Trade Finance, ADM; Sandra Primiero, Managing Director, Deutsche Bank; Jean-Jacques Poublet, Managing Director, UBS; and, Alastair Northway, EMEA Head of Commodities, Citi.
On the traders panel, some top traders will take to the stage to tackle the latest opportunities and challenges within the commodity trade finance space. And we will look to which markets and commodities hold the most opportunities for the upcoming year. Panellists are: Kona Haque, Head of Research, ED&F Man; Tanya Epshteyn, Head of Structured Finance, Czarnikow; and, Tawfik Sadfi, Head of STF & STF Business Development, Gunvor. Our moderator is: Nigel Scott, Managing Director - Global Head Structured Trade Commodity Finance, SMBC.
The bankers panel will focus on a range of key topics including how many banks have moved to more established clients to minimise the challenges surrounding compliance and regulatory issues. We will also examine how can banks collaborate with other lenders and insurers to increase lending appetite for mid-size and SME traders. And we will consider if there is growing pressure from NGOs and other pressure groups to push banks to finance certain commodities and vice versa, and what would those implications mean for the commodity finance market overall?
Sitting on the bankers panel will be: Bob Angliss, Head of Commodity Finance Business Centre, Bank of China; Jean-Marie Le Fouest, Head of Commodity & Structured Trade Finance, EMEA, MUFG Bank; Christine McWilliams, Global Head of Commodity and Energy, Treasury and Trade Solutions, Citi; and, Orhan Gunes, Head of Commodity Trade Finance, Sberbank (Switzerland). The moderator for this session is: Jonathan Solomon, Partner, Reed Smith.
The conference will also host our familiar session Gameshow: Deal or No Deal, where top bankers take the stage to share their thoughts on three different hypothetical transactions and decide 'deal or no deal'.
In addition, at the conference we will be presenting the Commodity Trade Finance Best in Class Awards, with the awards the results of a commodity survey undertaken by TXF Research & Intelligence earlier this year.
Other key sessions over the two days will include: Green on me: the role of green trade credit insurance; No hiding from climate change: driving action in maritime trade; Regional perspectives: around the commodity trade finance world; Going global: electronic transaction reforms; The impact of net zero on the oil & gas sector; The role of copper in the energy transition; Alternative finance: from survivors to saviours; and, Spotting the red flags: risk and early warning signs.
Do join us for what is certainly going to be a unique and very welcome event. Attendance must be capped to ensure the event is compliant with the hotel's Covid regulations, so please secure your place here as soon as possible. And, I very much look forward to seeing you there!
Become a TXF subscriber for unrestricted access to TXFnews.com 365 days a year
Take a look below at some of the exclusive subscriber articles published last week
Sudair: Cashing in on Saudi solar
An ACWA Power-led team sealed a tightly priced debt package to fund the 1.5GW Sudair solar PV project in mid-June. However, while the scheme marked the second lowest tariff in the world at the time of PPA signing, there were last minute changes to sponsor line-up....Read on here
Stages for Change: Vanco on bank-investor collaboration
"Why try to compete with a trade finance bank when you can co-invest with them". In this fortnight's Stages for Change article, TXF's Aife Howse speaks to Audentia Global's Sophia Vanco on why banks and alternative credit managers work better together.....Read on here
SUEK changes direction with dollar denominated bond
Russian energy and coal company SUEK is out to investors for an unsecured five-year dollar bond....Read on here
UK regulators warn trade finance CEOs to get ready for regulation
UK Bank of England Prudential Regulatory Authority (PRA) and the Financial Conduct Authority (FCA) have written to CEOs of companies with trade finance activities to outline their expectations that the....Read on here
IMF policy advice out of step with Paris Agreement, says report
IMF policy advice has been undermining a just energy transition since the Paris Agreement was signed in 2015, according to a report by ActionAid and the....Read on here
India signs loan with ADB for water treatment system
India's government has signed a $122 million loan with the....Read on here
Vietnam's PV Power in talks for hydropower refi
Vietnam's state-owned electricity utility PV Power is in discussions with...Read on here
Jebsen & Jessen Financial Solutions launches its export financing business
With all the necessary commercial changes and legal requirements having taken place, the export financing activities of Ferrostaal Financial Solutions will now operate under the name Jebsen & Jessen Financial Solutions (JJFS)....Read on here
Three IPPs in for Uzbek wind project
Uzbekistan's Ministry of Energy and Ministry of Investments and Foreign Trade are procuring an IPP to develop, finance, construct, own and operate the....Read on here
Niger issues RFQs for 50MW solar project
Responses to request for qualification (RFQs) are due from prospective developers for a...Read on here
Uzbekistan to launch RFQs next month for solar PV
Uzbekistan is expected to launch RFQs to IPPs next month for the...Read on here