Expert opinion
12 January 2022
TXF Local Export Vision 2021 takeaways
Region:
Middle East & Africa, Americas, Asia-Pacific, Europe
TXF's series of local events around Europe at the end of last year prompted plenty of debate around ECA product and policy. The main takeaways from these hybrid sessions can be found here.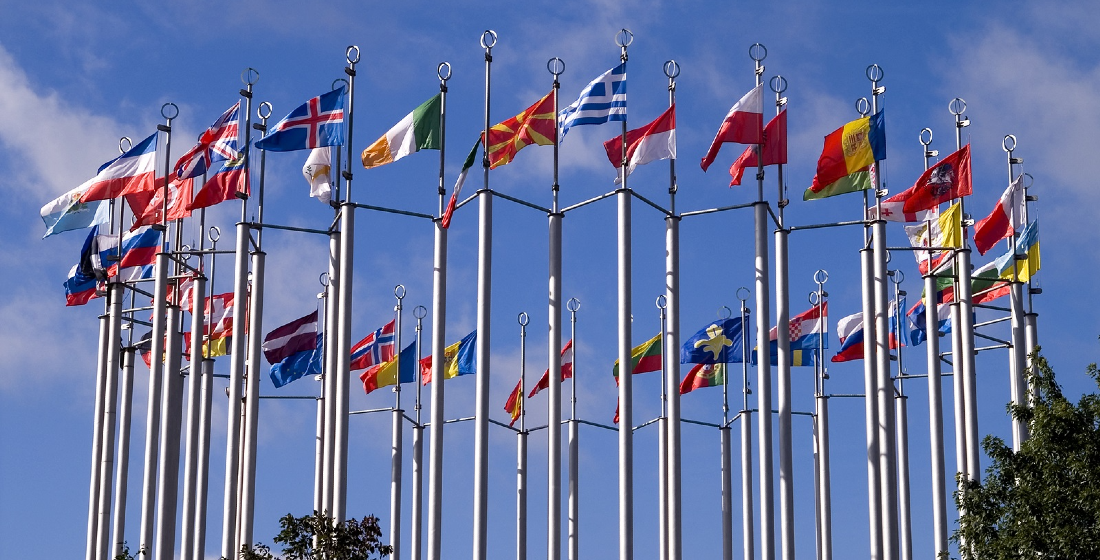 Hot on the heels of TXF Global in Madrid, TXF hosted a two-week series, shining an in-depth spotlight into the evolution of major European export credit markets. From three in-person, live streamed local events back-to-back in Paris, Frankfurt, and London to four virtual country events in Belgium, Denmark, Sweden and Italy, the purpose of the series was to allow experienced product users a deep dive into each country's export credit system, product innovations, latest policies, and coverage updates.
If you missed it, everything is online and available to watch on demand here.
Paris, France - 29 November – Bpifrance Hub
In conjunction with Bpifrance, we kicked off the series with a day of debate and networking tailored to the particulars of the French export finance system and how it fits within the French Vision Plan 2030.
Retrospectively the sessions highlighted the resilience of French export credits throughout the pandemic, with necessary new tools, efficient responses, and fast reactions, including the reinsurance of private insurers in the short term. All in all, it was deemed a much better response than the financial crisis in 2008.
Looking ahead, bolstered by COP 26, Export Finance for Future (E3F) and compliance with the EU taxonomy; climate finance, ESG and greening of the ECA portfolio dominates the outlook. Receiving enthusiastic pledges of support from the bankers, government, exporters and ECAs alike, with the utilisation of green and climate bonds as strong emerging tools to be harnessed. Given the huge investment needed to reach our ESG, climate and SDG targets, interest rates will need to remain low, which might lead to longer levels of inflation than currently predicated. Increased flexibility as an ECA and support of modernisation of the OECD consensus were also highlighted.
Frankfurt, Germany – 30 November – AKA Bank Offices
In conjunction with AKA bank, TXF hosted the annual TXF Germany event, which due to rapidly tightening pandemic restrictions, was the perfect virtual/physical hybrid event, with an audience of 60 senior leaders in the room and 50 online participants, interacting simultaneously through the Kujenga platform (TXF's event platform) and event space.
The key discussion during the event revolved around the German export market, pitting Euler Hermes against other ECAs, with respondents generally pleased. Overall, both banks and exporters were happy with Euler Hermes' products and response to the pandemic - but ultimately there is still room for improvement going forward.
Speed of deal execution and approval of support seemed to be the pressure points. German exporters noted that while order books are full, supply chains are strained. Moreover, not only are vital semi-conductors in short supply but also the cost of shipping goods has increased four-fold since the beginning of the year. It was also mentioned that Germany is not doing enough in Africa too, the largest import market in 2020 according to TXF data. The outlook for the German industry is in general positive, however it was highlighted that other exporting countries, especially China, are putting pressure on German products in key buyer markets.
London, UK - December 1st – TXF Offices
Next up TXF hosted the UK Export finance event, showcasing the new government export strategy detailing a focus on green growth, net-zero across all investments, emerging green technologies, and the backing of foreign inward investment in areas where infrastructure is currently lacking, such as electric vehicle (EV) batteries.
Collaboration between ECAs and DFIs, coupled with increased blended finance to mobilise private capital was tipped as essential to achievING our green and social goals, with ECA direct lending leading to banks increasingly focusing on arranging and structuring. A revealing 'Idea Lab' concluded the day, with all participants asked to contribute to an intimate roundtable session format, they concluded more support is needed from senior government officials in emerging markets to push UK exports in the face of competitors. The idea of a joined up 'Team UK' approach across all business banks, development agencies, government departments, foreign office and UKEF was also presented, especially given the huge opportunity for new projects in the ESG, SDG and climate space.
Belgium - 6 December - Kujenga Virtual Platform
Celebrating its 100th year, Credendo, the Belgium ECA, highlighted their availability to support a wide range of Belgian exporting companies in as flexible a manner as possible within the OECD Consensus. Support for small-scale exporters able to access direct lending funds for small-scale transactions was particularly important, and they noted a 50%+ increase in short-term deals in 2021 so far. Over the past 12 months there have been delays in large-scale infrastructure projects globally, particularly in Africa, but not in Asia-Pacific. Market changes had led the ECA to become highly adaptive, such as increasingly looking at better ways to cover various market risks of clients. On the claims side, instances of claims have been very low.
However, there has been an increase in the demand for deal restructurings. One area under much closer scrutiny is the balance sheet of corporates looking for cover. Credendo views energy transition as a growth opportunity, with several key clients adapting to renewables, including some of the dredging companies now transitioning to become involved in wind projects or moving into solar. To aid the transition, they are keenly aware they need to change the current model of support, and to do so believe a different mindset is required. They are planning on making several key announcements early in 2022 to help exporters through the transition.
Denmark - 7 December - Kujenga Virtual Platform
As a small ECA, the outlook is to be lean and adaptive, offering flexibility within the structure of the OECD Consensus. EKF is very much seen as a leading financier of wind projects, but at the same time supporting a wide range of other sectors and smaller exporters from Denmark and their subsidiaries. Some 70% of financing relates to wind projects, although EKF has over 700 clients and the majority are non-wind related. In the past 10 years, EKF has been a leading partner in structuring around 120 wind farm projects – both onshore and offshore. Overall, EKF has been a partner in mobilising more than €50 billion in private capital for wind projects, from the North Sea to Africa and Taiwan. They have been a partner on 30% of global offshore wind capability to date. Other recent big sector export projects include rail transport in Turkey and infrastructure in Africa. ESG goals are increasingly important, and EKF benchmarks all aspects of projects to IFC performance standards.
It is becoming more important to look more closely at the value chain in terms of human rights, the supply chain life cycle and biodiversity. Political risk factors are also of increasing importance, particularly so with the influence being pushed by China. This has led to a greater need for reinsurance through the London market. Prices have come down for that reinsurance, as more money has come into the London reinsurance market. With the establishment of new EKF hubs in Singapore and New York, it is expected in time that deals will also be originated in those hubs for Asia-Pacific and North and South America respectively. With many APAC countries still locked in with coal-fired power plants, there are huge opportunities for wind and other renewable projects. Other expected sectors with big opportunities include the agro-food sector, as well as waste to energy.
Sweden - 8 December - Kujenga Virtual Platform
In a one-on-one interview with Marie Aglert, director, head of business area large corporates EKN, we discussed the record year that EKN has had in 2021. In particular highlighting its achievements in Africa, where Sweden is the most active country in relation to its size. Looking ahead, EKN aims to diversify into areas of Asia and Latin America in 2022. EKN has an EPC initiative and "Team Sweden" in association with other Swedish bodies including SEK, which has continued to accelerate doing business in complex markets with a view on the high standards and transparency required to meet the agenda 2030 sustainability goals. Aglert discussed the new sectors the agency has managed to support, including exposure to wind and renewables as well as green tech, which includes green steel, electric vehicles, biofuels and its green guarantee programme.
Italy - 10 December - Kujenga Virtual Platform
Concluding our series, we caught up with SACE and UniCredit to discuss the Italian market. The opening keynote from Michal Ron, President of Berne Union, highlighted the importance of digitalisation and a second wave focussed on data management, increased domestic support, and accelerating the process of decarbonisation. Our underwriter deep dive saw SACE innovating its product suite, including upping its untied lending, supporting foreign exporters that procure goods from Italy, with a focus on future export contracts. Large-scale project financings are becoming more complex and creating blended finance opportunities can be challenging. Greater collaboration between DFI, ECAs and banks is needed to marry the respective institutions' different objectives.
The E3F coalition is a start at promoting greater collaboration between ECAs. But much more needs to be done to foster a more holistic approach, especially to more large-scale projects key to accelerating the energy transition. More ECAs, of all sizes, need to be included in this initiative. ECA-backed ESG-tied debt is a fledgling product but has great potential for promoting sustainable projects, with pricing mechanisms linked to KPIs. Questions remain as to whether SACE can afford to absorb a significant reduction in the ECA premium, given that indemnity payments still need to be covered. The ME and Sub-Saharan African regions are a strong focus for Italian exporters too, with social infrastructure, renewables, biofuels, which contribute to the circular economy, and the e-commerce market, two sectors with potential exponential growth for SACE support.
Become a TXF subscriber for unrestricted access to TXFnews.com 365 days a year
Contact us for individual and team rates by emailing subscriptions@txfmedia.com
Take a look below at some of the exclusive subscriber articles published last week
Export finance: year-end review
The export credit agency (ECA) offering has evolved and proved ever resilient in 2021, with yet another buoyant year for the market. But there are still several updates - to policy and product - needed to leverage the full potential of export finance, especially given how well placed ECAs are to accelerate energy transition....Read on here
Binh Nguyen: Small tickets; big regulatory hurdles
Sermsang Power sealed an innovative $35 million ECA-backed financing for its ground-mounted 50MW Binh Nguyen solar park in Vietnam at the end of 2021. But the more granular terms and conditions needed ironing out before the deal crossed the financial line...Read on here
Mercuria upsizes Asia RCF to $1.3bn
Mercuria Energy Group has boosted its latest fundraising to $1.3 billion thanks to commitments from a range of banks from...Read on here
Sacyr closes on ECA-backed equipment financing
Sacyr has reached financial close on a €20.1 million five-year SACE-covered green facility provided by....Read on here
Vale sells its Mozambique coal assets to Indian steel company Jindal
Brazilian mining company Vale has signed a deal to sell its metallurgical and thermal coal mine in Mozambique to.....Read on here
Maldives and ADB agree advisory services for solar PVs
On 22 December, ADB and the Maldives Ministry of Environment, Climate & Technology signed a transaction advisory services agreement for the....Read on here
Paul Lodwick joins SMBC commodity trade finance team
In a further expansion of its commodity trade finance team, SMBC in London has hired Paul Lodwick as a director, commodity trade finance sales at the bank. Lodwick comes from Rabobank London....Read on here
Michael Maischak joins Deutsche Leasing export finance
Deutsche Leasing has hired Michael Maischak as a director in their export finance department.....Read on here
ADB appoints consultant for Vietnamese waste management scheme
Asian Development Bank signed a $569,702 contract with Singapore-based EnviroSolutions & Consultancy to....Read on here
Patrick Sutton promoted to partner at Reed Smith
International law firm Reed Smith has promoted Patrick Sutton to partner within the firm. He specialises in trade & commodity finance, emerging markets finance and sports finance.....Read on here