Expert opinion
02 February 2022
Sustainability in export finance – the push for change
Region:
Middle East & Africa, Americas, Asia-Pacific, Europe
The volume of sustainable deals within the export finance sector is growing. But to take this forward positively across all industrial sectors a sensible debate with a clear pathway is needed to ensure business is not lost.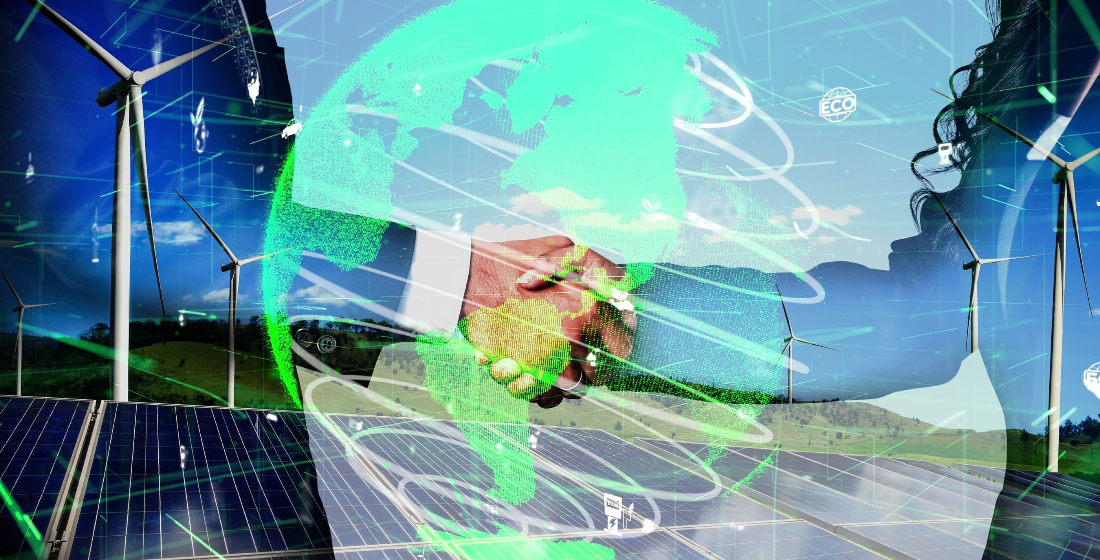 Widespread sustainability within export finance is something which has come relatively late to the framework of export credit agency-backed financing, particularly when compared to development bank (DFI) financing activity. For some time there has been a wide perception that export financing is lagging behind DFI financing in terms of overall sustainability. But here it is, and it is now very much firmly on the agendas of ECAs and most international commercial banks alike.
Within the export finance sector, the last few years have certainly seen the arrival of a greater adherence to sustainable values, a desire/need to change portfolios by moving away from fossil fuel financing and much greater attention to the 17 United Nations' Sustainable Development Goals (SDGs).
This has not been easy and will still be tough for ECAs going forward. Why? Because ECAs are there to support and service their exporters, and many of these companies are going to be involved in some way and in some part of the energy transition for decades to come. This is a big debate which will no doubt rage for some time to come.
Where governments have ruled that no more support will be given for new fossil fuel projects – such as the UK government has done – it will arguably be much easier for the respective ECA. Well, at least the respective ECA will know exactly what it can and can't support. However, there are still some big outstanding issues to contend with. For instance, what about if the European Union decides to label LNG 'green' through the transition?
Fortunately, the whole issue of sustainability within the export finance industry got a real shot in the arm last year with the publication of the landmark ICC White Paper on Sustainability in Export Finance. The report was the culmination of over a year of research and its findings will undoubtedly help the sector move forward with clearer objectives (see below).
For commercial banks, there will remain numerous minefields to cross. Current bank portfolios are being amended and new directions plotted that try to avoid fossil fuel financing - well at least upstream projects - while at the same time trying to incorporate more sustainable deals and still make decent money for the bank. Where do we find the right balance, what route should we be taking to ensure exporters are serviced, how do we ensure all industries can continue but become cleaner, and how can we as an industry make a difference without shooting ourselves completely in the foot?
Sensible and meaningful discussions around all these questions and many more are ones that we look forward to covering in our virtual event next week - TXF Sustainable Export Finance & Resilient Infrastructure 2022 - on 9 February 09:00am - 11:30am GMT
Attend with a TXF Events 365 Membership. Existing TXF Members should register attendance via the members' portal
Contact Andrew Woodhouse for any questions about TXF Membership, media or registration.
Sustainable Export Finance & Resilient Infrastructure
The event will take a close look at how in recent years new technologies and strategies have risen to prominence within exports as societies and economies transition to greener and more resilient structures. As ever, export finance continues to adapt its role in this towards more sustainable economies. Sessions are noted below:
Lessons in decarbonisation: COP26, the Glasgow Financial Alliance for Net Zero, and the Export Finance for the Future coalition
Panellists are: Berit Lindholdt-Lauridsen, senior operations officer, climate finance and policy unit, IFC; Daniel Bouzas Luis, regional coordinator for Europe, UNEP FI; Meg Nicolaysen, head of climate change, UKEF; Alex Michie, head of Glasgow Financial Alliance for Net Zero, HM Treasury. Moderated by: Dr Rebecca Harding, CEO, Coriolis Technologies
Green and social policy update: ECA products, policy, incentives, and disincentives in 2022
Panellists are: Karin Wessman, head of sustainability, EKN; Kristin Parello-Plesner, director, head of ESG, EKF; Arjen Walbroek, senior lead sustainability, team strategy & international relations, Atradius. Moderated by: Katharine Morton, head of trade, treasury & risk, TXF.
This panel gives an update on green and social policy with a particular focus on the activities of the Swedish, Danish and Dutch ECAs in sustainable exports and in infrastructure finance. These ECAs have a lot of common ground and are seen as being well advanced in their awareness of ESG issues, with complimentary expertise/and challenges – but how is actual progress going ahead, and what are the challenges they can share on their journey? How can other ECAs learn from each other in terms of managing their COP26 commitments – particularly those that have a high fossil fuel portfolio, how can these ECAs ensure their future financings 'do no harm'?
TXF Intelligence Overview: sustainability vs reality, what does the data tell us?
Gabriel Buck, managing director, GKB Ventures, in conversation with Max Thompson, editor, TXF.
This session will examine the latest trends within export finance with results from data supplied by TXF Intelligence and TXF Data. The first TXF sustainability report was produced in 2019 and the discussion will look at what progress has been made by the export finance sector up to end 2021 with evidence and analysis of export finance deals in relation to sustainability and 'green loans'.
A TXF Data dashboard shows that approximately 20% of export finance deals through 2021 were classified as sustainable, amounting to some $28.6 billion. In terms of the number of sustainable deals done, the largest number were within Africa, although on a value basis the biggest region was Europe – driven largely by big wind farm deals. As far as sectors go, renewables (wind, solar) had the largest number of deals, followed by infrastructure (rail, road, hospitals etc), then waste and water, and then power (transmission, waste to energy etc).
ICC White Paper spells out need to modernise OECD Arrangement
The landmark ICC White Paper on Sustainability in Export Finance was published in September 2021, and it was a culmination of over one year's work by the ICC Export Finance Sustainability Working Group. Funded by the ICC and The Rockefeller Foundation, the paper was authored by International Financial Consulting and Acre Impact Capital. The paper also involved some 16 leading export finance banks up to global head level, some 500 survey responses and 150 in-depth interviews.
The whitepaper explored how the $700 billion export finance industry can significantly increase its contribution to the achievement of the UN's SDGs and the Paris climate accord. Two of the main objectives of the report were: to provide a baseline of the industry's current practices and priorities with regard to sustainable export finance, and to provide policy and product recommendations that, if implemented, will help expand the flow of sustainable export finance.
Modernising the OECD Arrangement, harmonising definitions, widening origination efforts, and leveraging blended finance opportunities are all critical to increasing the volume of sustainable export finance transactions, according to the whitepaper.
Importantly, the whitepaper singled out updates to the OECD Arrangement as the most promising path to boosting the proportion of export finance transactions that are sustainable. Such updates could align the ECA rulebook with Paris Agreement targets and the UN's SDGs, resulting in a financing landscape which properly rewarded sustainability-friendly sectors, while precluding public finance for projects that were incongruent with those goals.
In addition, a more synchronised approach to the divergent definitions and frameworks utilised by industry players; greater efforts to support developing companies that are exporting innovative solutions which tackle environmental and social issues; and maximising the potential of blended financing to meet the large capex needs of new technologies would all result in more sustainable export finance transactions being done in the market.
The ICC whitepaper also analysed TXF Data from 2019 and 2020 to provide an overview of the development of the sustainable export finance market. It found that the volume of sustainable transactions increased significantly between 2019 and 2020, growing to $28 billion representing 21% of industry volumes in 2020 – from $18 billion representing 16% of industry volumes in 2019. As noted above, these trends and more recent data from TXF will be analysed and discussed in the session next week on 9 February (see above).
At the time of publication, a couple of comments from those closely involved in the paper resonate particularly well. John Denton, ICC's secretary general, said: "The whitepaper provides a clear call to action to rethink the sustainability performance of the export finance market. An essential first step should be to align the mandates of export credit agencies with key global sustainability goals – a common sense move that, as our paper shows, would pay a major dividend in scaling the availability of cost-effective finance for the capital goods needed to deliver on the promise to build back better from the Covid-19 pandemic."
Hussein Sefian, founding partner of Acre Impact Capital also stated: "To date, the export finance market has only received a cursory mention in the broader sustainable finance conversation. Yet, ECAs, working closely with their banking partners, have an excellent track-record of delivering investments at scale – in particular, in essential infrastructure. There is huge untapped potential for the export finance market to fill the financing gap in emerging markets and contribute to the sustainable finance ecosystem."
Become a TXF subscriber for unrestricted access to TXFnews.com 365 days a year
Contact us for individual and team rates by emailing subscriptions@txfmedia.com
Take a look below at some of the exclusive subscriber articles published last week
A change of Uzbek wind speed and direction?
Although not the first utility-scale wind project to be awarded in Uzbekistan, the Nukus wind project could prove to be the pathfinder for future wind tenders and financings following a host of legislative reforms. So what has changed?...Read on here
EXIM Hungary: Old mission, new strategy, expanded role
EXIM Hungary's new five-year strategy, which will run until 2026, anchors the Hungarian ECA's future development in education and cooperation. TXF spoke with Gergely Jákli, CEO, chairman of the board of directors, to outline the new strategy....Read on here
Bunge closes $600m PXF across multiple jurisdictions
BP Bunge Bioenergia, and each of its subsidiaries, signed a five-year...Read on here
Seaspan taps ECA support for two container ship deals
On 23 December 2021 Seaspan Corporation closed a $1.077 billion ECA-backed buyer credit to finance the procurement...Read on here
Axpo closes $543m ESG-tied bond
Switzerland's largest producer of renewable energy, Axpo, has secured a CHF500 million ($543 million) sustainability-linked dual bond...Read on here
Araguiaia closes ECA-backed facilities for Brazil nickel project
Metals and mining company Araguiaia Niquel Metias has sealed a...Read on here
More details on Kexim's loan to Trafi for base metal supply
Tragifura has signed a three-year $150 million loan to secure a stable supply of base metals to Korean corporates due to...Read on here
More details on Irkutsk Oil's ECA-backed loan for petchem plant
Russian oil and gas company Irkutsk Oil Company signed an $871 million JBIC/NEXI-backed buyer's credit facility to finance...Read on here
Ghana signs Serv-backed social loan
Ghana's Ministry of Finance signed a $199.75 million Serv-backed loan to finance the...Read on here
More details on Red Sea utilities financing
Further details have emerged on the financing of The Red Sea Project utilities PPP project in Saudi Arabia...Read on here
Amp closes cross-border construction mezzanine
Canada-based solar developer Amp Energy has closed a $350 million mezzanine portfolio construction facility to support the construction of....Read on here
DiCaprio becomes R3's first chief economist
Alisa DiCaprio has become the first chief economist at R3, an enterprise technology and services company, from her prior role as head of trade and central bank digital currency (CBDC) at R3....Read on here
Vrontamitis joins Finastra
Michael Vrontamitis is joining Finastra, a financial software company, as lead industry principal, lending business unit....Read on here
FA appointed for Darwin LNG Life Extension
Sponsors of Darwin LNG – Santos 43.4%, SK E&S 25%, Eni 11%, Inpex 11.4%, JERA 6.1% and Tokyo Gas 3.1% – have appointed a...Read on here