Expert opinion
20 April 2022
TXF Global Commodity Finance 2022: It's a gas
In:
Capital Equipment, Renewables
Region:
Middle East & Africa, Americas, Asia-Pacific, Europe
To celebrate the launch of the events platform, and the fact we are three weeks out from TXF Global Commodity Finance 2022, TXF's Aife Howse gets the inside scoop from Melinda Moore, CEO of Clean Mining, as they deep dive into the geopolitical relationship with rising base metals prices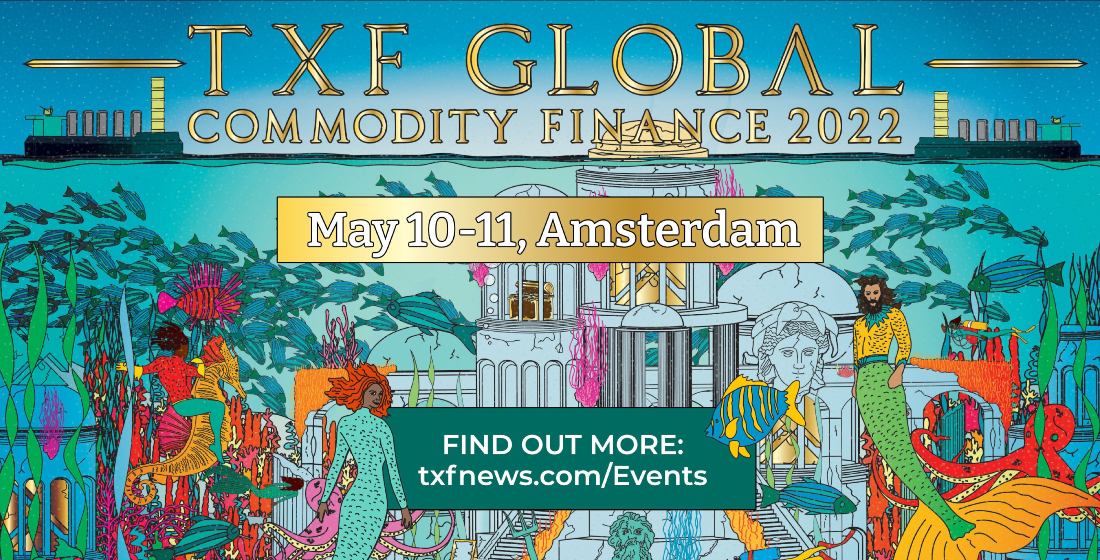 Three weeks out from TXF Global Commodity Finance 2022 and our virtual events platform, with an event guest list to schedule both in-person and virtual meetings, is now live. Taking place from 10-11 May, the physical event in Beurs van Berlage, Amsterdam, will also be held as a live virtual event.
To kick off two days of unmissable speakers and workshops, extended networking breaks, and an awards ceremony – finally back in physical format – we will be releasing weekly teaser content in the run up to the event itself.
On launch of the platform this week, I spoke to Melinda Moore, CEO of Clean Mining, to outline which commodities have been struck with the highest levels of price volatility off the back heightened geopolitical instability. We also discuss if the electric vehicle (EV) market is really in danger as base metal prices soar; and whether the role of base metals in green infrastructure offsets the various ESG issues associated with its circular supply chain.
One of the top takeaways from Moore's analysis was a focus on the vast gap between base metal supply and demand, and the consequences this will have on the industry from both a consumer and a net-zero emissions (NZE) perspective.
Russia's war against Ukraine has hugely exacerbated an already complex situation in the base metals sector just as the industry is catching up from Covid disruptions. But as with everything in the commodities industry, supply is affected by so much more than just one or two factors, and there are a host of other supply chain issues ticking away in the background.
From a dearth of vessel crew and shipping containers to microchip ability, which may not even begin to roll out until 2024, there are a multitude of headwinds facing the market, according to Moore. Some other factors that are squeezing supply are the serious lack of funding and government policy support in the mining industry, and various political concerns over new mining projects.
But on the demand side, the International Energy Agency (IEA) has predicted that EV battery requirements for base metals such as lithium, copper, and zinc, need volume to increase by 30 times by 2040, just to meet the EV requirements for NZE. Moore says this creates a need for an increase of at least four-fold in each base metal's total supply balances – a near impossible volume to meet.
As Moore puts it: "There is a massive gap in the supply and demand scenarios to meet net zero timetables, which is putting evident pressure on industry participants … we are facing a much stronger supercycle than one that already endangered the dreams of net zero". Moore also points out that there was next to no mining representation on stage at COP26 last year, despite it being a critical industry to energy transition. This starkly highlights the disconnect between the mining industry and what the products of the industry are used for.
And outside of the vast mismatch between supply and demand which is driving up prices, Russia's war against Ukraine means "it is going to take an awful lot of geopolitical willpower to create the right mechanisms for trade," Moore explains.
In short, the industry and consumers will have to heavily rely on policymakers to ensure that they balance out these competing concerns, and furthermore, she concludes that we might even see rationing across multiple commodities products off the back of the current geopolitical turmoil.
All these trends and headwinds, and so much more, will be explored further in Amsterdam, at a time when it couldn't be more critical to come together as an industry. Traders and producers currently account for an impressive 60% of the guestlist, including names such as Archer Daniels Midland, Axpo, BP, Bunge, Climate Neutral Commodity, COFCO, Czarnikow, Glencore, Gunvor, London Metal Exchange, Louis Dreyfus, Mercator Commodities, Mercuria, Metinvest, Shell, Trafigura, Viterra, and Vitol.
For those who are already registered, click here to visit the events platform, book in your meetings, and view the full guestlist and pre-event content, and to register your place at the event, click here.
Become a subscriber today to access the best export, trade and commodity finance analysis available. Email intelligence@txfmedia.com to find out more

Exclusive subscriber-only content published last week;
Blended finance: How are commercial banks filling the bankability gap?
Commercial banks are increasingly looking at blended finance to push marginally bankable deals over the fence — but hurdles of transparency, a limited pipeline of deals and trust deficit remain the biggest challenges for private investors...Read on here
New TXF research shows banks are embracing sustainable deals
Banks are embracing sustainable deals according to results from this year's TXF export finance research survey, but corporates expect a hefty price reduction...Read on here
Trade Finance TV: Powering a clean tomorrow
TXF Editor, Jonathan Bell joined Deutsche Bank to discuss whether it's possible to transition to net zero whilst maintaining energy supplies needed to keep up the output of copper, steel and aluminium needed for turbines, solar panels and electric vehicles...Read on here
Inglewood Transit Connector gets council approval
The City of Inglewood approved a planned $1 billion transit connector project at...Read on here
Bungala 1 & 2 solar projects refinanced
The operational 275MW Bungala One and Two solar farms in South Australia – sponsored by Enel Green Power and DIF – have been refinanced....Read on here
Ghana MoF closes on debt for maternity hospital project
Ghana's Ministry of Finance (MoF) reached financial close last month on an ECA-backed facility to support construction of a new....Read on here
More details on oEnergy PMGD project financing
Further information has come to light about the $86.6 million project financing of oEnergy's portfolio of....Read on here
HFW's Bazin promoted to partner, head of banking and finance
Olivier Bazin - who has been a partner at Holman Fenwick Willan (HWF) for the last five and a half years - has been promoted to partner, head of banking and finance, as of April....Read on here
Aramco looking for desulphurisation investors
Saudi Aramco has mandated HSBC to advise on a plan to raise third-party private investment to fund the....Read on here
ADB requests RFPs for Manila wastewater advisory
On 7 April, the ADB requested RFPs from six advisory bids to conduct a project preparation study for a commercial wastewater treatment mechanism in the Philippines.....Read on here
Six advisers shortlisted for Bhutan solar RFP
Six advisory teams have been shortlisted and received an RFP to fine tune potential sites for.....Read on here
Inglewood Transit Connector public hearings postponed
The City of Inglewood's Transit Connector Project faces delays as the City's Council pushes back a crucial vote on the project until....Read on here
BNDES holds investor roadshow for Belo Horizonte metro
On 6 April, BNDES opened registration for the roadshow of the proposed privatisation of the Belo Horizonte metro system ahead of meetings with the Brazilian investment partnerships office and....Read on here