Perspective
20 April 2022
The convergence of export & project finance: All roads lead to Lisbon
In:
Metals and Mining, Renewables
Region:
Middle East & Africa, Americas, Asia-Pacific, Europe
The who's who of the export & project finance community have already booked their places to TXF Global/Proximo Europe 2022 in Lisbon from 7-9 June. Have you got your all access pass yet?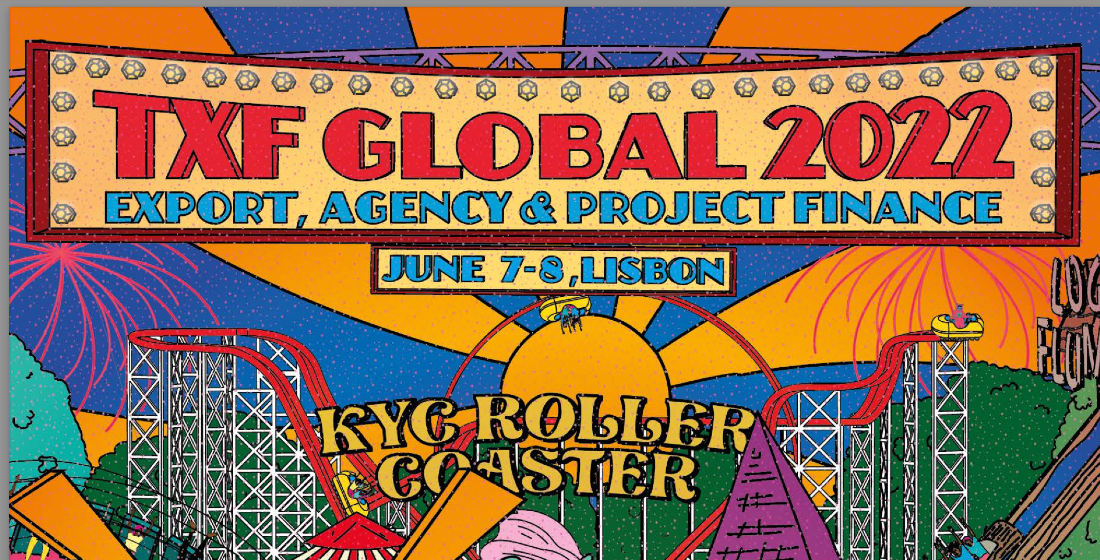 With EPC and commodity costs rising globally, energy security concerns in Europe and parts of Asia lending added impetus to both short-term LNG and traditional renewables development and longer-term energy transition, demand for export credit agency (ECA) support looks set to rise.
That's why it's more important than ever to buckle up and jump on this summer's blockbuster export, agency & project finance rides - TXF Global, at the Epic Sana Lisboa Hotel, which takes place in tandem with Proximo Europe, an infrastructure & renewables finance event at the InterContinental Lisbon. The two day conferences will also both be available to watch via our very own virtual event platform.
The conjunction between ECAs and project finance has never been more aligned in the wake of the pandemic, compounded by heightened geopolitical instability and a stronger focus on energy transition than ever before. In short, ECA backing is likely to play a much bigger role in the project finance market in the coming years given the energy security concerns and changes to many national energy policies spawned by Russia's invasion of Ukraine. And according to TXF's annual Export Finance Data Report for 2021 there is room for growth. The volume of debt incorporating ECA support – commercial debt plus cover and/or direct loans – was $104.9 billion in 2021, around $10 billion down on 2020. Of that total volume, ECA-backed debt (direct loans and covered tranches) totalled $78.2 billion (down from $88.5 billion in 2020) or 74.7%.
Project finance deals already account for around 60% of ECA business – and as large-scale project become more complex, demanding different components from around the world – export finance will be increasingly baked into emerging market big-ticket transactions, particularly across renewables, metals & mining, social infra, and battery storage units. But greater flexibility and speedier due diligence will be needed to meet that demand for ECA support.
TXF Global is growing from strength to strength with new C-level and government speakers added daily from top regional borrowers, exporters and ECAs. Recently added speakers include:
Dorivaldo Teixeira, Director General, Debt Management Office, Ministry of Finance Angola
Firas Al Hussaini, GM of Partnerships, National Debt Management Centre, Saudi Arabia
Reta Jo Lewis, President & Chair, US EXIM
Alexander Hartman, CFO, Northvolt AB
Teguh Widhi Harsono, VP Funding, PLNS
Tobias Behringer, Vice President Project and Customer Finance, Siemens Energy
Swati Dave, Managing Director & CEO, Export Finance Australia
Celeste Hagatong, Chairman of the Board of Directors, COSEC
Manish Manchandya, CFO & EVP, Saudi Electricity Company
Tom Einar Jensen, Chief Executive Officer, Freyr
Carlos Gomes da Silva, Vice-Chairman & CEO, MCA Group
Erdem Arioglu, Vice Chairman, Yapi Merkez
Paul Woodman, Chief Operating Officer - International, ASGC
Guto Davies, Global Public Capital Leader, GE Energy Financial Services
Tobias Behringer, Vice President Project and Customer Finance, Siemens Energy
These names are in addition to delegations from every major global ECA and the largest borrowers using the ECA product. Please find the latest agendas and book your pass to TXF Global and Proximo Europe below.