Expert opinion
21 September 2022
TXF Asia: The project pipeline
In:
Agri/Soft Commodities, Chemicals/Petrochemicals, Oil & gas
A gathering of the most senior project and export finance practitioners took place last week in Singapore at TXF Asia, with a handful of large-scale project financings expected to close over the next 12 months.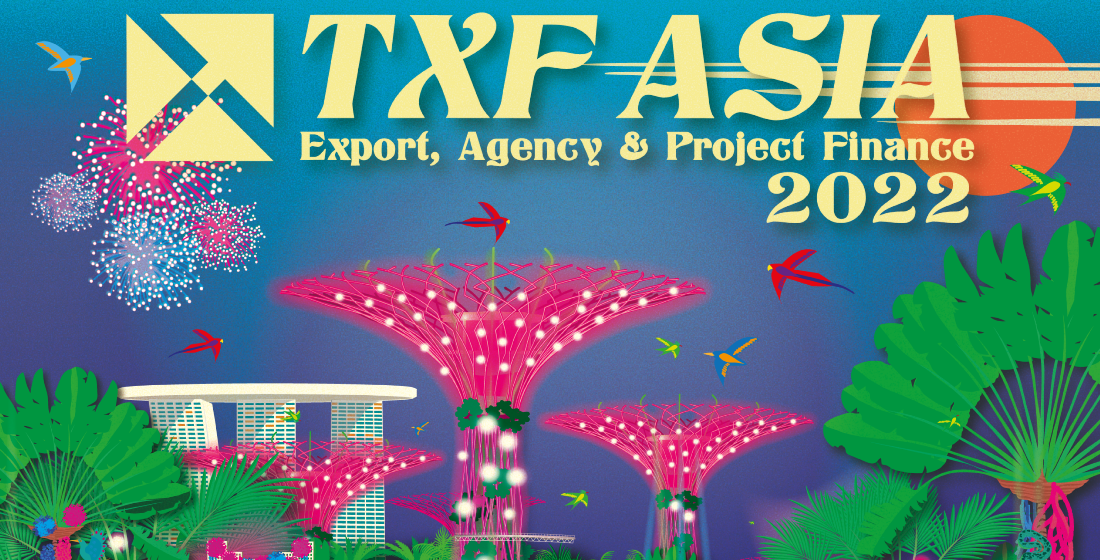 The volumes for the ECA-backed debt market in Asia are due to mushroom. According to TXF Intelligence, the region (Asia, Asia-Pacific and Australasia) merely accounted for a total deal volume of $11.8 billion across 36 deals in H1 2022. But despite this subdued deal activity, Asia topped the global regional table in the first half of the year. And, as revealed at TXF Asia in Singapore last week, there is a healthy pipeline of big-ticket projects poised to push those volumes even higher by year-end.
Only one oil & gas transaction closed up to the end of June in Asia, and that was a refinancing of an operational LNG project - Ichthys. The fact pure export contracts are wanning – for example, SACE's export finance business to Asia is dead on the buyer credit side with untied finance representing the entire Italian ECA's deal flow in Asia so far this year – is a significant factor in the depressed volumes.
Large-scale carbon-intensive projects remain high on the financing agenda: with Singapore's ChemOne expected to seal roughly $3 billion in ECA-covered loans for its Pengerang Energy Complex (PEC) project in Malaysia by the end of the year. The scheme has garnered support from US Ex-Im, which is still mulling over cover given the political sensitivities around funding such a project, CESCE, Euler Hermes and SACE. Local banks are yet to be mandated but will include financiers from Thailand, Malaysia and the Philippines.
ChemOne is also sounding out banks for another billion-dollar biofuel project in the same industrial zone, with PEC to serve as a financial blueprint for further ECA and bank support for the sponsor's sister scheme.
Likewise, Petrovietnam is expected to close two mega facilities next year: a $1.3 billion SACE and K-SURE/Kexim-backed loan to finance an LNG project due to reach commercial operation in 2024; and a $1 billion US dollar-denominated loan it raised to finance the expansion of an oil refinery expansion.
Korea-headquartered Lotte Chemicals is set to close a $2 billion K-SURE/Kexim-backed loan to finance the procurement of equipment by year-end. The deal marks a return to the ECA market for Lotte Chemicals. In 2016 its subsidiary, Lotte Chemicals USA Corporation, secured a $1.59 billion deal to finance two new integrated petrochemical plants in the USA, with K-SURE and Kexim again offering guarantees.
And with the debate around LNG being a transitional fuel now entirely dissipating in the wake of the pandemic and the war in Ukraine, a raft of Floating Production Storage and Offloading (FPSOs) financings – with backing from K-SURE and Kexim – are targeting close early next year.
Over on the defence side, a space poised for further ECA backing in the wake of Russia's invasion of Ukraine, Korea has agreed a $20 billion deal to ship defence equipment to Poland. The deal is said to be the largest arms export in Korean history. K-SURE and Kexim are offering ECA cover and the Polish Ministry of Finance is currently sounding out banks for financing. So far, no real surprises given the heightened geopolitical tensions globally, particularly military defence, with respective countries allocated budgets due to balloon, and energy security, with the race to net zero.
But what about renewables?
Taiwanese offshore wind finance has been a hub of ECA activity in Asia in recent years – but deal flow has slowed to a halt this year. Power China highlighted its 12-year plan for renewable development: with investments in wind (both onshore and offshore) due to rise, particularly in South Asia with Pakistani renewables schemes currently high on the corporate's list of financings.
State-owned electricity utility PLN is looking to up its power procurement pipeline for renewables too – and of the pledged 40.6GW of new power generation capacity by 2030, renewable energy plants will account for 30GW or 51% of the new capacity. Conversely, while Indonesia continues to phase out coal, alongside the redeveloping of such plants to gas, more hydropower schemes are already underway. And interestingly, floating solar bankability in Indonesia already has a purely commercially backed precedent in the Cirata scheme.
Green hydrogen was a recurring theme throughout the conference – given its potential to clean up transport and power – but it was made clear that the market is a long way from industrial-scale commercial bankability. However, the most abundant element in the universe will need strong support from local governments, coupled with more ammonia projects to transport hydrogen of all colours (blue (carbon capture), grey (fossil-fuel based) and green(renewable)), to be realised on the scale needed to drive transition and the race to net zero.
Perhaps most significantly, given its propensity to add a new financial instrument into the tool kits of commodity-linked corporates across the region, the rise of ESG-tied finance and green loan structures are now top of the fundraising agenda for PLN, with both such facilities already in the works. For example, PLN is due to close a $1 billion sustainability-linked loan with multilaterals ADB and AIIB at the beginning of next year as well as a $500 million green bond issue with the ADB.
Lastly, and perhaps most importantly, the metals and mining space is expected to garner significant ECA support going forward, especially given the role these future facing commodities will play in accelerating the decarbonisation of societies. From lithium, cobalt and graphite to rare earths, most battery-making – EV or battery storage – can't be realised without these critical minerals and metals. In short, agencies will need to find smaller mining projects, while being smarter in extending their support via offtakes and sponsor make-ups, as well as off the more traditional route off the back of equipment content.
Become a subscriber today for unrestricted access to the best export, trade and commodity finance analysis available.
Click here for information on the different packages available for you and your team
Exclusive subscriber-only content published last week:
The paperless papers
Further details on the UK's Electronic Trade Documents Bill have emerged following a briefing last week in advance of the bill's entry to Parliament......Read on here
Additional information on SOLA Group solar wheeling financing
Additional information has emerged on the project financing of two 100MW solar PV wheeling projects in South Africa.....Read on here
More details on the Deutsche GigaNetz financing
More details have emerged on the financing closed by Deutsche GigaNetz and a consortium of international banks to support its anticipated €3 billion roll out of fibre networks throughout Germany.....Read on here
Further details on Zarafshan onshore wind financing
Further information has come to light about the project financing of the 500MW Zarafshan onshore wind farm in Uzbekistan....Read on here
Bahrain WtE pulls strong prequal response
Bahrain's Ministry of Municipalities Affairs & Urban Planning has had 15 responses to the request for pre-qualification it issued in July for a proposed 1.3 mtpy waste-to-energy (WtE) project.....Read on here
Korea agrees $20bn defence deal with Poland
Korea has agreed a $20 billion deal to ship defence equipment to Poland, said to be the largest arms export in Korean history...Read on here
Three in bidding for Al Dur 3 advisory mandate
The advisory mandate for Electricity & Water Authority's 1.5-1.8GW/50 gallons per day Al Dur 3 independent water and power project in Bahrain has attracted bids from three consultancies...Read on here
Further details emerge on ChemOne Group's PEC Project
Singapore's ChemOne Group has made further progress on its Pengerang Energy Complex project in Malaysia...Read on here
Lotte Chemicals to close $2bn ECA equipment loan
Lotte Chemicals is set to close a $2 billion ECA-backed loan by the end of the year...Read on here