Expert opinion
12 October 2022
Putting deal origination at the heart of the matter
Region:
Middle East & Africa, Americas, Asia-Pacific, Europe
The TXF Dealmakers Assembly is a new and exciting conference taking place in Berlin on 26-27 October. Join us in this revamped format which puts networking and dealmaking firmly at the forefront.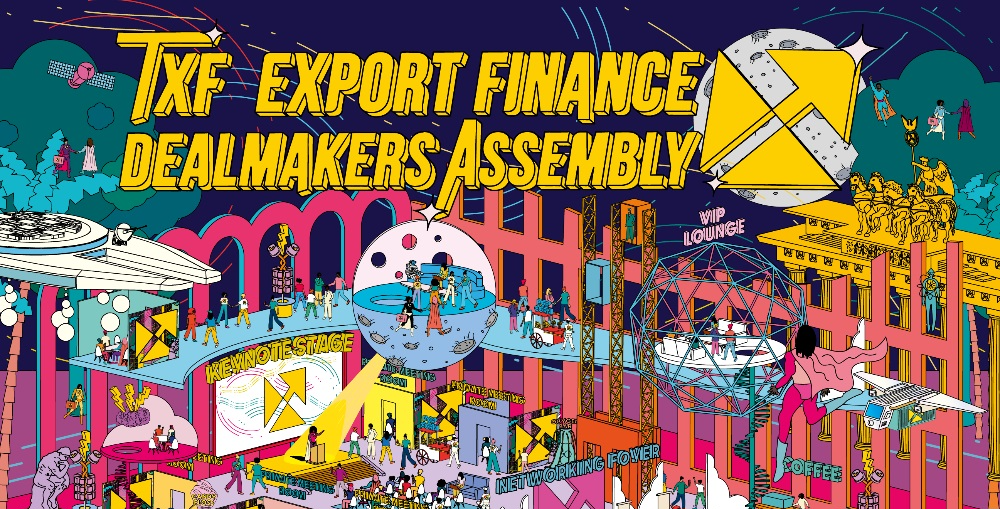 One thing that has always been abundantly clear is that conferences are one of the best arenas for networking and actually doing business, fermenting new relationships, further building existing relations and getting deals off the ground. Connections and ideas can often ricochet like pin-ball when good minds get together, and in the export finance market - which is crying out for a more consistent throughput of transactions - the need for interaction and physically meeting up is fundamental.
But sometimes there never seems enough time. So – in true TXF style, we have come up with something rather new and exciting – a conference turned upside-down, where we have made more time and space exactly for those intimate discussions! Meeting rooms galore, wide-open networking spaces, and deal origination at the forefront!
Following the huge success of the TXF Global Export & Project Finance conference in Lisbon earlier this year, where we were overrun with requests for meetings and meeting rooms, we have decided to launch the TXF Export Finance Dealmakers Assembly. This brand new, networking-first export event will take place in Berlin on 26-27 October.
The Dealmakers Assembly is a conference like none you've attended before. We've chosen to focus on just a few, select and critical keynotes, leaving you the rest of the time to focus on meetings and dealmaking. Behind-closed-doors workshop and roundtable sessions will also allow the intimacy for smaller groups to explore industrial sectors, regions and specific countries in-depth and as the group determines on the day to pursue potential transactions.
Late October is an optimal time to help get transactions over the line or bolster the deal pipeline before year end - and we have revamped our agenda to facilitate that. You can find more information - including detail on the list of participants who have already signed up - on the brochure here.
We'll have select keynote speakers, including the BBC's security correspondent Frank Gardner, Reliance Industries' head of financial resources and SVP Vineyesh Sawhney, Rebecca Harding CEO of Coriolis Technologies, Naci Can project finance & treasury director at Calik Enerji, Gernot Bruch global head of export & project finance at Linde Engineering, Laure Duvernay head of project finance at Alcatel Submarine Networks, Juan Jimenez Perez project finance manager with ERG International, Tobias Behringer VP treasury & corporate finance Siemens Energy, Carlos Perez Serrano commercial manager with Makiber, Eddy Veenstra customer finance director at Vanderlande Industries, and John Marcovecchio CEO at Magil and more. The networking roundtables will tackle the latest topics from energy supply to sustainable finance.
Currently, we have more than 300 people registered to attend the Dealmakers Assembly – ranging from exporters, borrowers, project sponsors, bankers, advisors, export credit agencies, private insurers and consultants. Some of the other corporates that have already confirmed their attendance include: Arab Contractors, Airbus, Alcatel Submarine Networks, AME International, Calik Enerji, Elecnor, GE, Kalpataru Power Transmission Ltd, Linde Engineering, JMC Proects, Orascom Construction, Reliance Industries, Sanayi Ve Ticaret, Scania, Vinci Energies, Siemens Gamesa Renewable Energy, SMS Group, Strabag SE, Powertis SA, Proman Holding, Saudi Aramco, Mercedes-Benz Group AG, Nordex, PVN, IntelCap, TGE Marine Gas Engineering and many more.
By joining this unique new format you get the best possible access to the stakeholders you need to get your deal successfully financed, guaranteed and off the ground. As we only have a very limited number of places remaining, please do let us know as soon as possible if one of your colleagues would like to join the meeting by contacting lucy.morris@txfmedia.com.
The programme in more detail
As noted above, the Dealmakers agenda will have select keynote sessions with much more than usual networking time, behind-closed doors workshop and roundtable sessions.
Day One will see BBC's security correspondent Frank Gardner - who has been with us twice before - make an address entitled Brave New World. Frank will assess the impact of the Russia-Ukraine conflict thus far; outline what we might expect to see in the next stages as the war draws on; and reflect on how this may impact geopolitical dynamics and the business landscape. As ever with Frank there will be ample time for questions and discussion.
Frank Gardner will be followed by: Through the looking glass: the weaponisation of trade. In this geoeconomic keynote, Rebbeca Harding, CEO at Coriolis Technologies, revisits her prescient prediction from 2017 that trade would increasingly be used as a tool of foreign policy aggression. How did the spirit and language of trade shift from that of collaboration, growth, opportunity and integration - to barriers, walls, protectionism and trade wars?
We then move to an extensive networking -session, which is followed by workshops and roundtables running in streams. The first workshop session is: ECA Speakers Corner – product and policy updates. This is a one-stop workshop bringing you up to date with all the latest developments from a range of ECAs on their latest products and policies. Delegates will also have a chance to quiz the ECAs as they each give a 10-minute presentation.
Industry roundtable discussions are interactive, intimate roundtable discussions providing delegates with a chance to introduce themselves to market peers before joining a discussion aimed at finding ideas to pressing issues. Sessions include: How to appeal to new ECA borrowers; The Role of ECAs in building Energy & Agri autonomy; Recruiting & Nurturing New Talent; and Solutions for SMEs and Smaller-Ticket Deals.
Following an extended networking lunch, we return to a mix of workshops and roundtables. Workshops will focus on: Consultancy Corner – Dealmaking masterclass. In this segment our experts offer their advice and best practice guide on two key components crucial to successful dealmaking, based on lessons learned from past transactions: Best practices in deal structuring and Best practices in content eligibility.
Roundtable discussions will focus on: Impact of inflation and pricing and Updates to the OECD Arrangement - ECAs as originators and EU Green Taxonomy.
Later in the day we return to a couple of plenary sessions including our classic dealmaking gameshow - Deal or No-Deal! We present three hypothetical deals to our industry panel and ask them which factors they would take into account when deciding whether or not they would do those deals. Before they give their final answer, we ask the audience to vote on 'Deal or No Deal' too.
Panellists on Deal or No Deal are: Nanette Bubik, head of export finance, LBBW, Francesca Beomonte, global head of structured trade & export finance, UniCredit; Cecile Camilli, global head of development & structured export finance, Societe Generale; and Kathrin Eich, global head export & agency finance, Commerzbank.
Day One wraps up with: Sustainability scorecard – measuring export finance performance against ICC white paper recommendations. The ICC Whitepaper on Sustainability in Export Finance is a benchmark work in the industry. It took stock of where the market is today when it comes to sustainability and laid out a series of recommendations for how to further the market's green goals. In this session, we score the market's performance against the recommendations since the report's release to see what is going well and what still needs work. Chris Mitman, head of export & agency finance at Investec, who has been immensely involved in the programme throughout, leads the discussion.
Please see the link above to view the entire Dealmakers Assembly programme and for full details of the agenda for Day Two.
Why join this completely unique and different event experience?
• Enjoy an event that is dedicated to facilitating introductions, deal origination and meeting with current clients;
• Make the most of private, well-stocked meeting rooms galore, dedicated for your team and/or available to book in timed slots;
• Hear from a small and carefully curated list of star keynote speakers over 2 days;
• Spacious networking areas with casual seating - ideal for grabbing a coffee and a chat with clients current and new;
• Take part in exporter and borrower-only roundtables, head to the 'Consultancy Corner' for fast, face-to-face advice with an industry expert and have your professional photo taken by our dedicated photographer;
• Forget dashing from one panel session to another; this is about meeting up and mingling with your industry in a more fluid and relaxed atmosphere;
• Slide from the main event into a cocktail reception with canape's, drinks and live entertainment;
• Access that all-important delegate list of all those on-site so you can arrange meetings well in advance.
The Dealmakers Assembly is a TXF initiative supported by event founding partners: Deutsche Bank, DZ Bank, Societe Generale, KfW IPEX-Bank, JP Morgan, Helaba, GOLAW and OPAIA. Founding ECA partners include: bpifrance, EKF, Saudi Exim, Euler Hermes, SERV, SACE and US Exim. Founding supporters include: Jebsen & Jessen, ODDO BHF, Fayolle Magil, TD and Orbian.
If you would like to find out more, have an idea for an exhibition space or would like a dedicated, branded meeting room, please contact: marketing@txfmedia.com
Become a subscriber today for unrestricted access to the best export, trade and commodity finance analysis available.
Click here for information on the different packages available for you and your team
Exclusive subscriber-only content published last week:
Bill Yu joins trader IXM as head of structured financing solutions
Former banker Bill Yu has joined non-ferrous metals trader IXM as its new head of structured financing solutions. He brings with him over 20 years of experience in commodity banking....Read on here
Danske Bank hires Kristin Parello-Plesner as head of group sustainability
She moves from her previous role as Head of ESG at EKF, Denmark's export credit agency....Read on here
ADB reveals Maldives battery energy storage systems info
The proposed BESS, under the multilateral's Accelerating Sustainable System Development Using Renewable Energy (ASSURE) programme, will support ADB-backed 20MW solar PPPs...Read on here
EDF South African wind portfolio nears financial close
EDF Renewables, H1 Holdings, and Gibb-Crede are nearing financial close on project financings for the San Kraal, Phezukomoya, and Coleskop onshore wind farms in South Africa...Read on here
Keppel Sakra Cogen financing progressing
Keppel Infrastructure, via its subsidiary Keppel Energy, is shortlisting lenders for the debt financing for its S$750 million 600MW Keppel Sakra Cogeneration (KSC) project on Jurong Island....Read on here
LS Power closes on Bolt BESS portfolio refinancing
LS Power closed on the refinancing of its Bolt Energy storage portfolio last month. The deal is actually a refinancing of the $331 million facility Bolt raised in 2021, with some additional funding for....Read on here
Matrix closes on Gaskell West debt
Having signed a $92 million US tax equity financing for its Gaskell West 2 and Gaskell West 3 solar/BESS projects in June, Matrix Renewables has since reached financial close on the debt backing the...Read on here
IFC issues 3 REOIs for 3 brownfield projects in Jamaica
The World Bank Group member is seeking concurrently, but through separate REOIs a technical, legal, environmental and social (E&S), and communications consultant for the project....Read on here
Turkey's Gaziantep hospital PPP to get equity boost
Gaziantep Integrated Health Campus, a PPP project in Turkey, is to re-commence construction following an additional equity provision of €167 million from sponsor consortium....Read on here
Bids in for Shuweihat S4
Emirates Water and Electricity Company (EWEC) has received bids from three teams for the 70MIGD Shuweihat S4 reverse osmosis independent water project (IWP) in Abu Dhabi....Read on here
Bids in for Manah Solar 1 and 2
Oman Power & Water Procurement (OPWP) has received bids in the delayed tender for the Manah 1 and 2 solar projects. Synergy Consulting, DLA Piper and Fichtner are advising OPWP on the tender...Read on here
More details on Eland 1 and 2
More details have emerged on the recent financing by Arevon of its Eland 1 and 2 solar projects in Kern County...Read on here