Expert opinion
02 November 2022
TXF Dealmakers Assembly 2022: The takeaways
Region:
Middle East & Africa, Americas, Asia-Pacific, Europe
The TXF Dealmakers Assembly is a new event designed to facilitate networking and deal origination. Last week, the first ever edition was held in Berlin. With geopolitical tensions on the rise and issues around sustainability more urgent than ever, it is crucial that ECAs and exporters come together to innovate. Here are some of the top takeaways from TXF's brand new event format.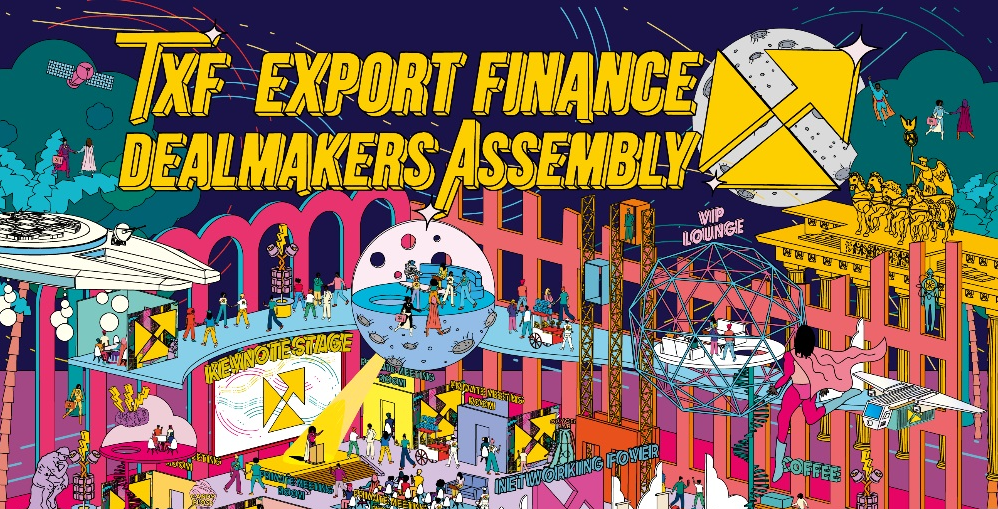 Hot on the heels of another edition of TXF Germany, the TXF Dealmakers Assembly debuted last week in Berlin to an audience of both familiar friends and new faces. Attendees experienced a typically robust mix of speakers, workshops, idea labs and roundtable discussions on the big themes in export finance, but this was a more flexible event that put networking at the forefront. In response to feedback from recent events, TXF has designed Dealmakers with deal origination in mind through a slimmed-down agenda and a plethora of available meeting rooms.
The topics up for debate included the weaponisation of trade, the impact of inflation and pricing, and updates to the OECD Arrangement. Participants were offered a crash course in negotiating with ECA borrowers, nurturing talent in the industry, and the role of ECAs in the energy transition. Keynote speakers were concentrated among a select group of experts from the BBC, Coriolis Technologies, Siemens Energy, and Planet Now. The roundtable discussions featured contributions from a range of firms and institutions including ERG International, SACE, Finnvera, Linde Engineering, and Crescent Group.
Here are some of the top takeaways from TXF's latest event:
The impact of geopolitics on trade is clearer than ever
Between Russia's exile from the international community and the breakdown in the US-China relationship, exporters have faced significant disruption. The consensus at Dealmakers was that these pressures are unlikely to abate in the near future. At the same time, exporters and buyers will be forced to take account of new geopolitical pressures affecting their supply chains.
Frank Gardner, the BBC's security correspondent, and Rebecca Harding, CEO of Coriolis Technologies, each offered keynote speeches that considered the political and economic consequences of war, disruption and trade. They explained how an era of economic conflict, highlighted most recently by new US legislation on semi-conductors, represents a fundamental challenge to the rules-based order that has defined international politics since 1945.
The world can no longer rely on growing economic interdependency to deepen the ties between nations.
A perfect storm of black swan events
Delegates used the workshops, idea labs and roundtable discussions to reflect on the convergence of problems that have brought rapid growth in inflation and interest rates. In these unprecedented circumstances, exporters cannot rely upon traditional means of avoiding inflation. Parties involved in infrastructure projects and export contracts must seek to offer protection for EPC contractors affected by the soaring costs of production.
Delegates agreed that changes to the OECD Consensus have never been more necessary, but what form should this take? Longer tenors, reduced premiums, local content percentages and a re-evaluation of how risk is assessed were all discussed – particularly in relation to emerging markets, social deals and specific sector transactions, such as transmission lines.
ECAs are changing to meet new demands
In a special policy update panel, several ECAs came together to enlighten delegates on the new approaches in their ECA toolkits, as well as mapping out new or forthcoming policies. It was striking to see a selection of common approaches offered by representatives from Bpifrance, Credendo, Euler Hermes, Finnvera and SACE.
ECAs are looking to broaden their understanding of national interest, and expand the support they offer to their exporting domestic base companies. This could mean taking on contracts that don't involve their domestic industries, but rather strengthen supply chains. It will lead to more untied facilities in 2023 as they seek to secure long-term agreements for commodities. 'Green' loans will increasingly be rolled out for domestic projects that have future export potential.
Flexibility is the watchword of this new era.
The energy transition demands creative problem-solving
There is a lot of work to be done if net zero commitments are to ever become a reality, and the solutions are not always obvious. A keynote from Charlotte Noltenius of Planet Now reminded delegates of the urgency of the crisis we face, but also of the opportunities offered by enhancing climate resilience. The exporter community will be essential to the process of upgrading infrastructure.
As Tobias Behringer of Siemens Energy argued, the issue at hand is not technology that can generate renewable power, but rather infrastructure that was never designed to support and store electricity from renewable sources. All of the industry's players, including ECAs, exporters, and banks, will need to keep innovating to ensure that technology can be commercialised for mass consumption.
Going 'green' needs more transparency
There was considerable interest and lengthy discussions on the issue of 'green' deals throughout many of the sessions. What is increasingly concerning for many is that the definition of 'green' needs to be a much more transparent issue. Many of the ECAs related how they are currently using the EU Taxonomy to consider 'green' deal status – but also stating that this classification is not a final or set nomenclature. Most realise that the whole issue of 'green' status is still in a state of flux and ultimately it would considerably help the market if a more established and expansive set of parameters and rules could be established for deals to be classified as 'green'. Until such time, certain entities and institutions will be striving to find the right balance for deals to reach a 'green' threshold.
The solutions are in the room
The Dealmakers Assembly was designed to facilitate introductions and meetings. A number of sessions were dedicated to educational topics like top tips for funding CAPEX projects in emerging markets and advice for SMEs looking to navigate the exporter world. It was the perfect forum to remind delegates that the best problem-solving comes through collaboration. Workshop participants were reminded to: "Always think about what the borrower needs, making sure its affordable particularly so in challenging markets."
More networking breaks were added to the agenda and more space was made for private meetings so that delegates could dedicate time to deal-making, rather than running for the next panel session. In this sense, Dealmakers offered a space for finding solutions and cementing deals rather than simply discussing them.
Become a subscriber today for unrestricted access to the best export, trade and commodity finance analysis available.
Click here for information on the different packages available for you and your team
Exclusive subscriber-only content published last week:
ADB approves $18m for Bhutan's first solar PV
On 18 October, ADB approved $18.26 million in financing for the construction of Bhutan's first utility-scale solar PV power plant, the Sephu...Read on here
ADB approves blended finance loan for Vietnamese wind
ADB has approved both tranches of a $91.4 million financing for the 88MW AC Energy Wind Power Project in Vietnam. ADB approved a loan of $35 million...Read on here
AMAALA bidders secure bank support
Bidders for the AMAALA utilities project in Saudi Arabia have secured commitments from banks, according to a source familiar with the matter. Bids were...Read on here
Ithaca Energy to IPO after investor feedback
North Sea oil and gas company Ithaca Energy is pressing ahead with what is likely to be the largest UK IPO for over a year following constructive....Read on here
AIIB to approve $500mn for Yunnan airport upgrades
The Asian Infrastructure Investment Bank (AIIB) is expected to approve a $500 million loan to finance upgrades to the Yunnan Kunming Changshui green...Read on here
More details emerge on Cambodian solar PV deal
More details have emerged on the DFI-backed financing backing the construction of Thailand-based Prime Road Alternative's 60MW solar PV in...Read on here