Perspective
21 April 2023
Cruising still bruising
The cruise ship sector has one of the biggest debt hangovers from the pandemic – a situation mirrored in slow ECA-backed cruise ship volumes. Cruise cashflow is picking up again and the debt burden will reduce, but cruise operators now also face the cost of significantly reducing their environmental impact.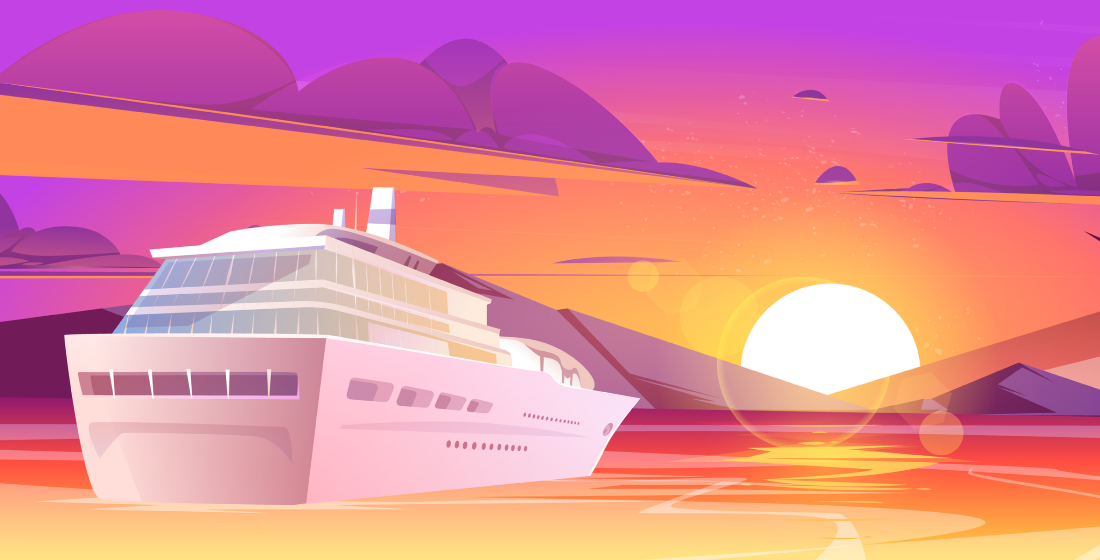 At the end of March, Life at Sea Cruises (owned by Miray Cruises) announced a new venture: a three-year all-inclusive cruise aboard the MV Gemini, taking in 135 countries and covering 130,000 miles, for prices starting at roughly $100,000.
The outlandishness of the offering is arguably a signal that at least some investors believe the cruise business still has a future after taking a severe hit during the global pandemic. But the post-pandemic recovery has been slow. Financial results from Royal Caribbean Cruises show that occupancy rates remained at 57.4% in Q1 2022, up from 37.7% in Q1 2021. The total occupancy rate for 2022 eventually reached 85.1%.
Banks and ECAs have been just as hesitant to return as passengers. And while occupancy rates continue to rise steadily, the headwinds facing the sector are still significant – not least decarbonisation.
Debt burdens
In order to survive the fallow months of 2020, cruise operators took on expensive private debt and secured payment holidays on their ECA funding, while postponing orders for new vessels. They have been left with significant debt burdens to service, often at high prices, with reduced turnover and depleted cash reserves.
Many of these issues have been passed onto shipyards through delayed orders for new ships. On top of these concerns, the cost of constructing a new vessel has risen off the back of inflation and high commodity prices. Taken altogether, these pressures have put off renewed investment. As one banker familiar with the industry puts it: "We can say that the pandemic is behind us, but the hangover will stay with us. It will take several years to digest this".
When it comes to financing new ships, banks and ECAs have been hesitant. This is reflected in the data from TXF Intelligence: from 2017 to 2019, cruise ship borrowers were able to secure more than $30 billion of ECA-backed funding. Across these three years, this represents almost 90% of export finance volumes in the shipping industry recorded by TXF.
Conversely, in 2021, cruise ship financing reached $5.3 billion, and in 2022 it fell to just $3.2 billion. This made up just 39.1% of export finance volumes for shipping in 2022. Sources say that more banks need to be tapped now to ensure that syndications have enough capacity.
There are still deals to be done as cashflow returns for those with strong ECA relationships – the most active ECAs are strongly incentivised by the presence of specialised shipyards in their domestic manufacturing bases. For example, in 2021 SACE agreed to back four export credit facilities with a total value of over $1.5 billion for four new cruise ships for Viking Ocean Cruises. In the same year, Euler Hermes supported an upsized loan to Silversea Cruise Holding to support retrofitting of emissions reduction equipment, and last year Fincantieri, the Italian shipyard, secured a $500 million ESG-tied loan to support its construction activities.
Data from Cruise Ship Orderbook shows that 66 new vessels are on order from now until 2028. Sources have said that shipyards are well-booked even if there is little demand for extra capacity. Several newcomers have placed orders, including Explora Journeys, Project Sama, and Orient Express. These entrants have helped to make up for muted appetite among some of the traditional operators, loaded as they are with debt.
This mixed assessment suggests that the pipeline is returning slowly, even if credit ratings in the sector now reflect increased risk. However, the challenges do not end there. The cruise sector has emerged from its hibernation to find a world that is more conscious of its environmental footprint than ever. For a non-essential industry with a vast appetite for energy consumption, the threat could prove existential if does not address it in a meaningful way.
Environmental pressures growing
Traditional cruise ships have been subjected to widespread criticism from environmental groups. A 2021 report published by the Marine Pollution Bulletin argued that a single cruise ship has a greater emissions profile than 12,000 cars and produces more than a tonne of waste for every day of its voyage. Its journey affects wildlife, and residents of port cities face dangerously poor air quality. In 2017, Princess Cruise Lines was fined a record $40 million by the US Department of Justice (US DoJ) for discharging oily waste into open waters. In one single incident, a vessel dumped 4,227 gallons into the sea, just 20 miles off the coast of England.
The Cruise Liners International Association (CLIA) has insisted that real progress has been made on the sector's emissions profile. It has committed to a 40% reduction across the global cruise fleet by 2030. By 2035, it has mandated that all ships call at ports equipped with shoreside electricity, which will allow engines to be switched off for the duration of their stay.
The greatest opportunity for change lies in the promise of new technology. LNG and biofuels have been touted as sustainable alternatives for fossil fuels. In April 2022, Cruise Ship Orderbook noted 24 LNG-powered cruise ships that were due for delivery. There is the possibility that cruise ships can be downsized to reduce waste and improve efficiency. These measures would help to make cruise ship deals more attractive to financiers, and potentially cut away the size and complexity of the transactions.
Profound technological change comes with its own hardships though. Operators are being asked to invest in expensive emissions-reducing measures as they attempt to return to profitability in the post-pandemic era. They must choose between retrofitting their existing fleet and creating an entirely new one. Port infrastructure must be built to accommodate new power sources; LNG, for example, demands liquefaction and regasification units. The green fuels themselves are not yet available in great enough quantities or at a cost-effective price. All of these factors will erode the competitiveness of a sector that has thrived on its mass-market appeal.
The TXF perspective
Cruise ships are not alone in facing these issues. It is widely acknowledged that the shipping industry as a whole cannot decarbonise overnight, and many areas of tourism are facing questions about their consumption. Cruise ships are conspicuous targets for frustrations about the pace of the energy transition. The evidence suggests that ECAs are willing to support cruise ship operators to make that transition, even if it is unlikely that financing will return to pre-pandemic volumes.
But some question whether the industry is truly pushing itself to reform. Since 2017, Princess Line Cruises has been fined twice, for $20 million in 2019 and $1 million in 2022, by the US DoJ for failing to comply with the terms of its five-year probation plan.
In the long-term, without radical decarbonisation, many will continue to question whether cruise ships can have a role in a truly sustainable society. They offer a telling reminder of the consumptive excess that many hoped would be left behind after the pandemic. It is up to operators, shipyards, and financiers to prove that the industry can return to profitability while reforming its worst practices.