TXF Export Finance Deals of the Year 2022: Triumphing through adversity
In:
Manufacturing & equipment, Metals and Mining, Oil & gas, Power, Renewables, Transport, Waste and water
Region:
Middle East & Africa, Americas, Asia-Pacific, Europe
TXF is pleased to present the winners of its Perfect 10 Export Finance Deals of the Year for 2022. They show off some of the best examples of innovation in the market in spite of the pressures exerted by geopolitical turmoil. Export finance continues to boast a healthy and resilient product offering, as well as a strong pipeline of exceptional transactions.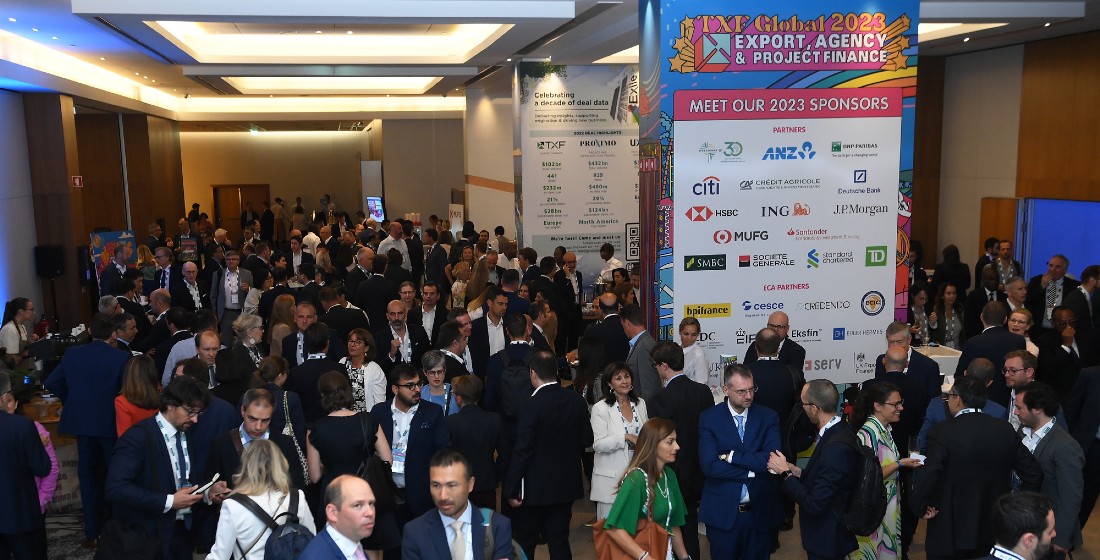 The TXF Export Finance Deals of the Year (DoYs) for 2022 were presented to winners at this year's edition of TXF Global Export Finance in Lisbon. These transactions celebrate excellent examples of innovation and ambition after another year of turmoil in geopolitics and international trade. There was significant competition for the DoYs of 2022, with many strong deals not making the final cut. However, we can only award the 10 best deals, and so these deals are to be celebrated.
The challenges facing the export finance community are well-documented. A toxic mix of high inflation and rising interest rates has had a knock-on effect on deal flow, as exporters and contractors struggle to arrange financing that adequately covers project costs. The impact will be felt most in developing countries that already have difficulty attracting ECA support due to perceptions of enhanced risk. ECAs continue to step away from fossil fuels but they remain besieged on all sides; some want to see the pace of change increase, while others question whether this withdrawal is consistent with the reality of current demand for oil & gas.
All is not lost however, and there are strong signs that the industry is continuing its recovery from the pandemic. A long-awaited package of reforms to the OECD Arrangement will allow many ECAs to offer more flexible products than ever to their exporters/borrowers, and the fruits of these changes will become apparent in the coming months. The winners highlighted below are examples of best practice in spite of the many challenges facing the industry.
A word on selection: TXF Export Finance Deals of the Year are assessed in January each year for deals closed in the previous calendar year. Around early December, institutions are invited to submit deals that they consider to be stand-out, special to the market, sector, country, region or 'landmark' in structure or some other way. Those deals and others already on the TXF database – TagMyDeals - part of TXF Intelligence, can be voted for by all in the market through the TagMyDeals website. We only ever award the best 10 deals – hence the Perfect 10. The senior editorial team then assesses the deals with the most votes to ultimately come up with the final winning Perfect 10.
Overall Deal of the Year
Cotton, Spinning, Weaving & Garment Holding – SERV Covered Loan
This SERV-covered loan for Cotton, Spinning, Weaving & Garment Holding supports the company's efforts to modernise machinery at various plants across Egypt. It received the highest number of votes from the export finance community on the TagMyDeals platform.
The project in question leveraged the work of seven different Swiss textile machinery exporters as well as Jebsen & Jessen's industrial supply chain expertise. It benefitted from a guarantee supplied by Egypt's Ministry of Finance, which enabled SERV to offer its support on the deal. The financing supports 87 supply contracts across three currencies with deliveries scheduled for seven different sites across Egypt – presenting exceptional diligence to documentation. While ECA support is not new in the textile industry, this is by some distance the largest and most complex deal that the industry has seen so far.
Africa Deal of the Year
Line 1 Metro d'Abidjan – Bpifrance Covered Loan
This $1.16 billion deal will support Line 1 of Côte d'Ivoire's flagship 38-kilometre subway network in Abidjan. A consortium that includes Alstom, Bouygues Travaux Publics, Colas Rail and Keolis has been contracted by the Ministry of Economy and Finance of Côte d'Ivoire to construct and deliver the metro infrastructure and rolling stock. It is expected to transport 500,000 people per day and 180 million people per year. Once built, this project will make a real difference to mobility in metro Abidjan while reducing pressure on the city's road infrastructure. The deal marks both the first metro line in West Africa and Bpifrance's largest ever facility in Sub-Saharan Africa.
Asia Deal of the Year
Karawang EV Battery Manufacturing Project – K-Sure Covered Loan
This $711 million export credit facility supports Indonesia's efforts to ramp up its electric vehicle (EV) battery capacity. HLI Green Power is developing South-East Asia's first ever EV battery plant with a capacity of at least 10GW per annum. It will help to power up to 150,000 vehicles per year. Indonesia is the world's largest producer of nickel, but since 2020 a ban on the export of raw nickel ore has been in place. This ban has been extended to bauxite and cobalt in recent months. The government's efforts to secure greater value from Indonesia's natural resources has pushed firms to locate more downstream facilities within the country.
The financing marks the first ever Korean ECA-backed EV battery transaction. A syndicate of five banks make up the overall financing, with ANZ acting as coordinator and ECA agent. Sponsors of the project are Hyundai Motor Group (Hyundai Motor Company, Kia, Hyundai Mobis) and LG Energy Solutions. This transaction is an exceptionally important development in Asia's overall EV transition.
Europe Deal of the Year
SK On Hungary - ECA Covered Loans
SK On Hungary secured a $2 billion ECA-backed deal to support SK Innovation's latest European gigafactory plant. It will produce third-generation battery cells for automotive plants in Germany, Czech Republic, Slovakia and Hungary with a total capacity of 30GWh, enough to power 430,000 EVs per year. Euler Hermes, K-Sure and KEXIM came together to support the financing across three covered tranches and an additional direct loan from KEXIM. BNP Paribas and HSBC acted as ECA agents for the syndicate of seven banks. SK On has plans to invest $10 billion in its EV supply business globally over the coming years. This landmark transaction for the European EV market received the third most votes in the TXF DoY voting.
Latin America Deal of the Year
Araguaia Nickel Mine – EKF/Finnvera Covered Loan
This $411 million project financing package will fund the construction of the Araguaia Ferronickel Project, with first production scheduled for 2024. Araguaia is one of Horizonte's two tier-one nickel projects in Pará State, Brazil. The financing will support the country's efforts to become a major nickel producer. The mine is expected to produce 14,500 tonnes of nickel per year across a 28-year lifespan. With so little big-scale upstream mining finance taking place over recent years, this transaction represents a crucial investment in the global critical minerals production cycle.
The financing package includes an innovative mix of lenders. Finnvera and the Export and Investment Fund of Denmark covered two tranches, while Orion Resource Partners and La Mancha Resource Capital provided convertible loan notes. SEK also acted as a lender on the senior debt facility. Four banks provided funding in addition to the ECA support and private equity investment. Equipment and services exporters include Afry, Hatch and FLSmidth. An offtake contract with Glencore was secured in exchange for a $7 million equity investment.
MENA Deal of the Year
Assiut Oil Refinery Expansion Project – SACE Covered Loan
Assiut National Oil Processing Company (ANOPC) has begun work on a new hydrocracking complex next to its existing refinery facilities in Assiut, Egypt. The total investment cost of $2.9 billion is part-financed by SACE-backed debt facilities totalling $1.47 billion. This award goes to the two deals that support the refinery project.
SACE has provided 100% cover on a $701 million loan to the National Bank of Egypt and a $772 million loan to ANOPC for the supply of equipment. An on-lending facility between the National Bank of Egypt and ANOPC was then established for $701 million. Enppi, Petrojet and TechnipFMC are the EPC contractors attached to the deal. A total of six banks acted across both transactions, with BNP Paribas and Credit Agricole acting as bookrunners. These two financings – closed at the same time - are transformational for the Egyptian petrochemical sector and will contribute greatly to the country's industrialisation and economy.
Renewables Deal of the Year
MacIntyre Wind Farm Pty Ltd – CESCE Covered Loan
This CESCE-covered loan will support the construction of the MacIntyre wind farm in Australia. Upon completion, the Queensland project will become the largest wind farm in the southern hemisphere, and by extension one of the largest in the world with a capacity of 923.4 MW. It will generate 2.8 GWh per year and during its lifetime, the wind farm is expected to directly avoid around 2.4 million tons of greenhouse gas emissions per year. Acciona Energia of Spain is the project sponsor.
Under the EU Taxonomy this $711 million transaction is categorised as a green loan. It is CESCE's second facility executed under its new green investment policy. Six banks make up the syndicate, with Credit Agricole and HSBC acting as green loan coordinators. After initial documentation was completed, the transaction reached signing in just two months, with financial close on 30 December 2022.
Rail Transport Deal of the Year
MoF Egypt Green Line – Euler Hermes Buyer Credit
This deal supports an ambitious project to revitalise one of the largest train networks in the MENA region. The 660-kilometre Green Line is the first phase of a new network that will pass through Cairo, New Capital City, Alexandria and Fayoum. It is expected to lead to a major reduction in carbon emissions associated with road traffic in Egypt, and it will serve as a blueprint for additional rail projects known as the Red Line and the Blue Line. As part of Egypt's 2030 Vision, the government is looking to develop a network of around 15,000 kilometres of railway. Siemens Mobility is the contractor attached to the deal.
The $2 billion financing benefits from a guarantee supplied by Egypt's Ministry of Finance as well as cover from Euler Hermes. A total of 12 banks make up the syndicate, with BayernLB, BNP Paribas, Santander, Deutsche Bank and Credit Agricole acting as bookrunners. A landmark transaction for Egypt, this deal garnered the second highest number of votes in TXF's DoY process for 2022. The financing closed on 22 December 2022.
Social Infrastructure Deal of the Year
Drinking Water Project in Ivory Coast (Part of Water for All) – EKN Covered Loan
Closing in early December 2022, this $230 million ECA-backed deal will fund the construction of 1,000 new drinking water boreholes with solar pumps and new water pipelines for 189 villages in Côte d'Ivoire. The government's 'Water for All' scheme aims to improve access to water across the country. This particular transaction supports one of the largest water projects seen in West Africa. It will reach approximately three million people across 1,200 different locations, many of whom live in remote rural areas. Baran Group and Elof Hansson International will supply and construct the water systems.
EKN has offered cover on the deal, while SEK provided more than $100 million of direct lending overall. KfW-IPEX Bank provided the remainder of the funding. Bluebird Finance acted as the financial advisor on the deal. This crucial social infrastructure financing for Ivory Coast will enhance the lives of a huge number of people in the country and is a worthy winner of this award.
Market Innovation Deal of the Year
Trafigura Group - $3bn and $800mn Euler Hermes Covered Loans
This award is made up of two immensely important and innovative transactions recognising the success of commodity trading company Trafigura's partnership with Euler Hermes for the supply of key commodities into Germany. The $800 million untied loan facility, closed in September 2022, carries a commitment from Trafigura to deliver up to 500,000 tonnes of critical minerals to Germany, while the $3 billion deal, again with Trafigura and signed in December 2022, is linked to the supply of substantial volumes of gas (LNG) for German industry.
On the energy side, the association between the German ECA and Trafigura arrived at a time of geopolitical turmoil, as Europe scrambled to secure energy supplies in the wake of sanctions on Russian exports. On the metals front, securing the supply of critical minerals is now an essential component of industrial strategy as developed countries look to stimulate investment in low-carbon sectors and energy transition industries. But it is not just the timing of this partnership that makes it a worthy award winner. It is also a reflection of the intent shown by ECAs to develop their product offerings beyond traditional export contracts to strongly support national interest – in this case powering homes and industry as well as securing industrial materials. If international trade continues to fragment, expect to see much more innovation of this kind within export finance.