One Belt, One Road, many projects
China's One Belt, One Road initiative spans continents and oceans, and is set to become the largest regional trade network in the world. Financial institutions in China and abroad are cooperating in new ways to make it happen.
Hello stranger, fancy seeing you here…
Unfortunately you've stumbled across our paid-for content but that's not a problem, join the TXF Essentials community today for unrestricted access to:
Daily news and analysis from our TXF experts
Access to TXF data dashboards and Smart Search
Market reports and bi-annual long reads
And much much more…
X
In our seminal export & project finance event in China, we will be bringing together leading experts and market newcomers alike to uncover the most promising opportunities in this region.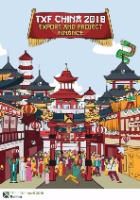 TXF China 2018