Can supply chain finance plug Asian SMEs' financing gap?
SMEs in Asia and the Pacific face acute challenges in obtaining financing, with unique geographies and low bank densities forming barriers for businesses. The development of supply chain finance alternatives has been slow but a new programme in Malaysia could begin to offer new options for SMEs in the region.
Hello stranger, fancy seeing you here…
Unfortunately you've stumbled across our paid-for content but that's not a problem, join the TXF Essentials community today for unrestricted access to:
Daily news and analysis from our TXF experts
Access to TXF data dashboards and Smart Search
Market reports and bi-annual long reads
And much much more…
X
TXF is back in DC! We'll be examining how multilaterals are evolving to fulfil an expanded remit, while maintaining a focus on emerging and frontier market development and infrastructure. Join corporates and leading practitioners in agency finance to debate industry challenges.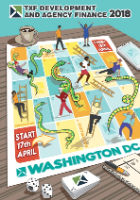 TXF Development and Agency Finance