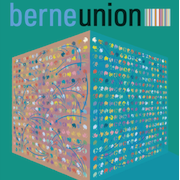 2016: a leap-year, year of change and year of growth for the Berne Union
Topi Vesteri, Berne Union president, and deputy CEO, and group chief credit officer of Finnvera, reveals how the Berne Union continues to support a growing amount of global trade, and reports on the importance of the formal merger with the Prague Club.
3 min
( WORDS)
2016 has been an eventful, and in some respects surprising year so far. A number of high-profile political developments – not least the UK's referendum to exit the European Union – sit against a backdrop of difficult economic conditions, rising geopolitical risks and uncertain financial markets. Collectively, these trends have sustained the challenging environment for trade we saw in 2015.
Figures from the World Trade Organisation (WTO) indicate that world trade experienced a considerable decline in 2015, down over 13% on 2014 to just under $16.5 trillion. Low energy and commodity prices and very cautious low investment activity certainly account for a significant portion of this, but also changing patterns of demand and currency fluctuations.
In line with these developments in the wider global economy, Berne Union members have also recorded a decline in volumes of export credit insurance – collectively underwriting around $1.84 trillion of new business in 2015. However, it is noteworthy that this drop – down approximately 7% from 2014 volumes – is considerably lower than the comparable fall in overall world trade, and in actual fact, the percentage of global trade supported by Berne Union members continued to rise, amounting to over 11% for 2015 business.
This statistic underlines the important role which Berne Union members play in facilitating trade in difficult economic environments, as well as the counter-cyclical and stabilising function of the credit insurance products they provide. Of course this stabilising role can only be effective where the industry is confident that Berne Union members' credit insurance and investment insurance products perform both in good times and in bad. In respect of claims, Berne Union members paid out $5.9 billion in 2015 – a 38% increase when compared to the $4.3 billion recorded in 2014.
Indeed, since the beginning of the global financial crisis in 2008, Berne Union members have paid approximately $35 billion to exporters and banks to compensate them for losses suffered due to defaults by buyers or other obligors, thus Berne Union members have provided ample and flexible risk capacity to support international trade transactions and to foster sustainable economic growth.
Significant changes for the Berne Union in 2016
An affirmative vote at the May 2016 Spring meeting in Warsaw confirmed the formal integration of the Berne Union and Prague Club, bringing combined membership to a record 82 companies from 73 countries, representing over 90% of world population.
The Berne Union has always been an international organisation, with global interests, but this development is significant in bringing together a wider cross-section of industry representatives than ever before. Our members include the largest private credit insurers and most ambitious government-backed ECAs, with global footprints, writing business in excess of $400 billion, as well as small regional outfits, with annual turnover of only several million US dollars, and everything in-between.
It goes without saying that a larger number of members, writing more business can only be a good thing for the representation of the collective organisation; but even more so, for an industry which resists a cookie-cutter approach, this diversity of representation is itself both important and appropriate, and the resulting exchange of information is invaluable to all members and the wider trade finance community
These themes of engagement, diversity of representation and communication exchange are central to the Berne Union's vision, and have informed the continuing evolution of the organisation as we adapt in line with both our members and the changing landscape we all find ourselves in.
We are currently poised to initiate the next steps in reform of the Berne Union Management Committee, incorporating representation for our colleagues at the erstwhile Prague Club – which now sits as a specialist committee, alongside those for Short-Term, Medium/Long-Term and Investment Insurance – as well as making changes to the terms served by elected officials, and the rotating members. The intention is that this will facilitate more effective leadership, better overall representation and smoother transitions from term to term.
Execution of long-term strategy will be the remit of newly established Task Forces, initially focused on Data, HR & Finance and Outreach. These will provide a concrete means of delivering the Berne Union's strategic goals, and will allow the Management Committee to more efficiently direct its resources and expertise to this end.
The world of export finance has changed considerably, even just in the eight years since the start of the global financial crisis. The role of ECAs in particular, and providers of export credit in general, has been central to this. Determining how our industry relates to the banks and other financial institutions in the trade space is essential to remaining relevant in such a rapidly changing environment, with complex external drivers.
Alternative sources of finance and diversification of risk
Regulation remains a primary concern for lenders. The Basel Committee's stringent capital and liquidity requirements in particular has put pressure on banks' capacity to support trade and to a large degree has encouraged trends towards banks as arrangers, seeking to originate to distribute, leaving noticeable market gaps in funding. Small businesses, the potential growth engines of future exports in many countries, have been hit especially hard. In this environment of increasingly onerous compliance, where the cost of providing trade finance facilities is often not worth the margin for banks, alternative sources of finance are essential.
For the part of ECAs, most temporary export credit funding schemes set up since 2009 have become permanent. Direct lending schemes, transfer schemes, securitisation or funding guarantee schemes, all have their place within the toolboxes of many ECAs, but differing rules on eligibility, application, differing credit quality and cost of funds raise questions as to how far we risk disrupting the putative 'level playing field'.
Partnerships between public and private insurers are increasingly common and these provide a unanimously welcome source of excess capacity and greater diversification of risk. However, there remains a question mark around the rightful territory of state-backed insurers, in a soft, competitive and hungry private market. The Berne Union provides a unique forum for bringing together public and private insurers to collectively tackle exactly these sorts of issues
We operate in a complex and interconnected environment where ECAs are essential for their capacity building, and also expected to be innovative in adapting to changing client needs, but at the same time remaining conscious of the need to avoid crowding out the private market, whether it is banks or insurers. There is clearly a need for all participants to look carefully at how their respective roles can remain complimentary in this environment. With the right kind of dialogue, we create an incredible opportunity to drive innovative change in export finance and in so doing, enhance flows of trade globally.
It is with such objectives in mind that the Berne Union has formed a specialist Working Group, along with colleagues from the ICC Banking Commission's Export Finance Committee, striving to provide a discussion platform to address key issues of common concern between the ECAs and the export finance arranging and lending banks.
The initial meeting of the Working Group in Rome in June 2016 focused on the coordination of a cross-industry response to regulatory challenges. In particular, the group honed in on the Basel III leverage ratio consultation, and the vital role for the Berne Union, and our members in highlighting and demonstrating the importance and reliability of trade credit insurance to banking clients, regulators and policy makers. Similarly, making steps towards the clarification and standardisation of export credit insurance policy wording to avoid regulatory gaps is helpful in developing complimentary ECA and bank product suites.
Some progress has already been made in lobbying around these issues and the European Banking Authority has recommended the consideration of ECA- finance as a special case, in the context of Basel III implementation. There is, of course much more work to be carried out, but with the Working Group set to continue meeting regularly, several times a year, the most important outcome is the establishment and maintenance of formal industry dialogue.
The market is moving, our members are changing and adapting and so too is the Berne Union as an organisation.
We find ourselves in a world which is rapidly changing. But while the shape and size of our business may vary over time, and from member to member, its essential function remains constant. Even as new markets now open up – for example now with Argentina, Cuba, Iran and Myanmar – geopolitical rifts, sanctions and conflicts narrow the arteries of business elsewhere. In addition, Fintech, disruptive technology and disruptive business models are leveraging advances in digitisation, automation and big data to find new and innovative ways of structuring and integrating physical and financial supply chains – connecting people who can and want to do business together more easily.
The Berne Union remains an outwardly focused organisation, dedicated to promoting and representing the industry, with the mission to enhance trade and investment flows globally. Our growing membership helps foster a genuinely valuable professional exchange and reinforces and amplifies our collective voice. Through the course of 2017 we expect to find new ways to engage with the community and look forward to further expanding our external links and collaborations.
President, Topi Vesteri
FINNVERA Finland | Deputy CEO, Group Chief Credit Officer
}