TXF: Can you highlight the most important findings of the BExA benchmarking report? What are the most useful takeaways for British exporters?
Marcus Dolman (MD): There are a few highlights in the report that are important to point out – the first being that the UK benefits from one of the best export credit agencies (ECAs) in the world in UKEF. They have been proactive in developing new products and services, they are keen to understand where they can continue to improve and we have a constructive ongoing dialogue to ensure that they continue to meet and exceed the needs of UK exporters.
Whilst not specifically UKEF related, BExA continues to champion a co-ordinated whole-government approach to trade. The recent Trade Policy white paper was a good step forward in providing a framework for exporters but does not go far enough with no mention of exporter support or the role of other departments.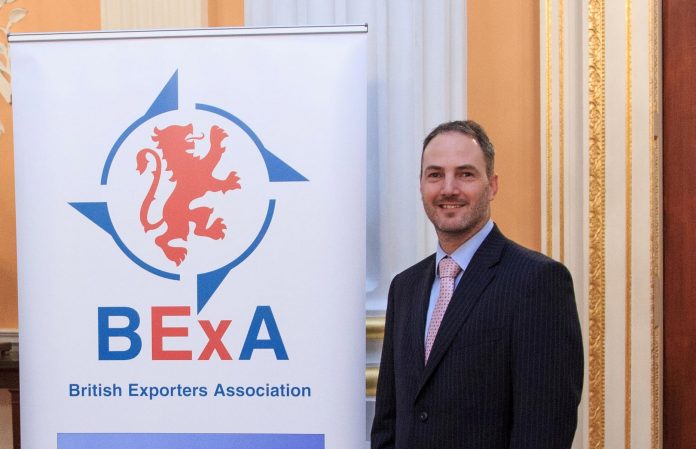 TXF: Which trade agreements look the most fruitful for exporters, and do you think there are enough SMEs to fill UKEF's new trade agreements and revised country limits?
MD: The UK has around 200,000 businesses that are able to export, unfortunately only around 10% of them do. The UK has the potential exporters but they just need the incentive to look overseas. At the moment there is limited financial support on offer from DIT to visit and research new markets, BExA views this financial support as essential to enable SMEs to get out and explore the possibilities and to win new orders overseas. The problem the UK currently has is a reluctance on the part of business to export, remaining UK centric is the easy option and therefore government has more to do to encourage business to expand their horizons and to de-risk trading overseas.
TXF: UKEF's digitisation of the application process for ECA cover aims to make access to export finance easier, do you think this is the case? Have there been any teething problems, and how long will it take for SMEs to fully benefit from this?
MD: BExA believes that the digitisation of UKEF's application process can bring with it advantages to UK exporters. Firstly, it will simplify the current cumbersome application process by allowing exporters that require more than one UKEF product to enter their project details once rather than the multiple times required under the current process. Secondly, it should provide a new level of transparency to exporters to understand where their application is in the UKEF process. This will also drive UKEF to improve turnaround times as responsiveness can now be more effectively measured. Thirdly it gives UKEF the opportunity to automate some of their current processes such as premium indications through an online calculator and to automate simple expression of interest letters.
There is still a significant amount of work to go before exporters get a fully functioning system but BExA is pleased with the direction UKEF is taking and will remain engaged in its development.
TXF: Can you explain the DIT's 'white paper' which is currently going through parliament and how it proposes to benefit British exporters? And, what reservations does BExA have about this bill?
MD: The current Trade Policy white paper is DIT's vision for a future framework under which international trade and investment will operate. It talks primarily of traditional policy items such trade agreements and the UK's preferred approach of free trade. BExA is supportive of the points currently set out but do not believe the paper goes far enough.
BExA believes the Trade Policy should be an all-encompassing framework for trade and investment, in its current guise it does not mention any support for exporters and it does not mention cooperation with other government departments in any detail. We see these as critical elements of the successful whole government approach to trade that is required to get UK business exporting in the volumes that we expect.
TXF: While the department for international trade (DIT) and the department for international development (DfID) are pushing a spate of projects, there is still a high level of non-disclosure. Why is this and how do they plan to become more transparent?
MD: For business, DfID is a difficult department to contact and many businesses view DfID as simply anti-UK business, instead preferring to spend the UK aid budget overseas with no regard for the capabilities of UK companies to deliver their aid projects. DIT have been trying to work with DfID to push a more joined up approach, but to date this has been a difficult partnership with seemingly one department more engaged than the other.
Whilst UK businesses do not expect DfID to prescript that UK companies are required to deliver aid projects, we do ask that we are informed and invited to bid on such projects. BExA is hopeful that DfID's new minister is more open to links with UK business.
TXF: The report cites that anti-Iranian rhetoric coming from the US inhibits ECA-backed trade in the region. However, we've recently seen a spate of investors interested in Iranian energy, with some projects rumoured to have UKEF backing. Have British exporters been deterred by such rhetoric?
MD: The problem with projects in Iran does not lie with UK Exporters or with UKEF, but rather with the reluctance of the banking market to process payments for Iranian projects. The banks are understandably concerned that they will incur the US's wrath should they bank Iranian projects and open themselves up to similar large fines as BNP Paribas and HSBC. This means that, despite UKEF being theoretically open for Iranian business, in practice they cannot book any deals as they cannot bank the premium payments or find a bank to act as agent. The anti-Iranian rhetoric has hardened banks' positions on Iran and, if UK Government is unable to solve this issue, BExA cannot see how UK business can access this large market to any great degree.
TXF: In the past, UKEF-backed deals have raised significant humanitarian concerns. Has BExA responded to reports that UKEF have supported weapons deals, or does it plan to?
MD: UKEF abides by the OECD's Common Approaches to Export Credit, which includes ensuring that projects undergo due diligence on social environmental and health requirements meeting the standards laid down by the WorldBank and IFC. BExA is comfortable that UKEF applies these standards rigorously and fairly to all new requests.