Livestock – more than a commodity
Region:
Middle East & Africa
Value chains like livestock and dairy face a unique set of challenges, giving them a reputation as being higher risk than those for soft commodities like grains.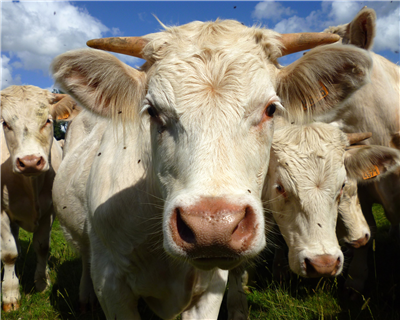 Value chains like livestock and dairy face a unique set of challenges, giving them a reputation as being higher risk than those for soft commodities like grains.
Innovative schemes are helping overcome these challenges though – identifying weak points in the value chain and supporting them with cash, infrastructure and education. This is already improving the livelihood of small farmers and traders as industries across Africa develop into thriving export markets.
A living bank
The main challenge for livestock systems is that, once butchered the product becomes very perishable, says Jo Cadilhon, senior agricultural economist at the International Livestock Research Institute (ILRI).
Unlike crops like maize or rice, which can be kept for years if stored correctly, a piece of meat or a litre of milk needs to get to market very quickly. This also requires investment in infrastructure like chilling plants.
Additionally, livestock is "not just a product you consume – it is part of a social, cultural and economic system," he points out. Animals have a value to rural communities beyond their market price, meaning smallholders are sometimes reluctant to sell, he says. Animals produce dung for fertiliser, they play a key role in many religious or cultural celebrations, and they work as a "live bank" – something a smallholder can sell when he needs cash for his child's education or a family wedding. "That's why we call it livestock," Cadilhon says. "It's actually capital – a live asset."
Traders in Swaziland tap finance
ILRI started work last year on an initiative to support the beef value chain in Swaziland. Funded by the International Fund for Agricultural Development (IFAD), the three-year scheme will offer six-month loans to rural traders, who will use the money to buy cattle and pay fatteners to prepare them for slaughter.
"The problem in developing countries is that traders, and often also farmers, don't have collateral and often don't own the land they are working on," says Nadhem Mtimet, agricultural economist – policy, trade and value chains at ILRI.
The loans will be channelled through a bank or microfinance institute and a number have already expressed interest in participating. The idea is that once they have experience of lending to traders with the project money, they will gain confidence to lend with their own money when the project ends.
The initiative aims to connect players in the value chain and improve livelihoods for traders as well as smallholders who either work in dry, remote locations or who do not have capital.
Partners in the project also include Swaziland Ministry of Agriculture, the Swaziland Water and Agricultural Development Enterprise (SWADE) and Swaziland's Microfinance Unit.
Namibia targets the EU with beef
The Namibia Meat Board has "developed a very good export supply chain for packaged meat ready to be sold in European supermarkets," says Cadilhon.
Seeking to leverage its strong trade ties with the EU through the EU-Africa-Caribbean-Pacific programme, the government decided to focus on its beef industry.
Together with the private sector, it set up a system under which smallholders bring cattle to government-approved feeding and slaughter houses that guarantee the health of the animal.
Because of this, "they are health and safety compliant, they are animal-welfare compliant and they have infrastructure to finish off their cattle," he says.
According to Meat Board figures Namibia exported 9,500 tonnes of beef to the UK, Finland, Denmark and Norway last year.
Somalia re-exports live animals
Somalia is another example of an African country taking the initiative to develop a thriving export market, this time for live animals rather than meat.
Historically a big supplier of goats and sheep to the Middle East, Somalia's livestock industry was struck in the late 1990s by an outbreak of the Rift Valley Fever disease, leading Saudi Arabia to ban imports from the country.
The government and private sector responded by setting up a quarantine station that checks the health of animals before shipping them to the port of Jeddah. The country is now exporting three million to four million head of sheep and goats per year from Berbera port, and has even become a re-export market, shipping animals that are brought in from land-locked Ethiopia as well as from northern Kenya.
"It's an interesting example of how the government is trying to help Somalian smallholders and livestock keepers improve the quality of animals so that they can get more income from livestock activities," says Mtimet.
Lower risk than crops
Livestock financing gets a poor rap but can actually be lower risk than soft commodities, according to Francois Visagie, head of structured trade and commodity finance at Barclays Africa. "There's a huge move [among banks] towards not only looking at grains," he says.
"What was groundbreaking ten years ago is now vanilla finance. The ones that get their feet to work now will be the ones that have it easier going forward."
Although live animals are vulnerable to disease and theft, a calf has an immediate value as an investment, which grows as it matures and is prepared for market, he says. In contrast, crops have no value at all until a number of factors come into play. "You're basically putting your money in the ground and praying for rain."
Banks can also insure against livestock disease, as long as they are sourcing from a large enough farmer or trader rather than a smallholder. This is because insurance is typically only available from a minimum value.