Expert opinion
18 January 2023
WISTA and PwC's gender diversity whitepaper: More momentum is needed
Region:
Middle East & Africa, Americas, Asia-Pacific, Europe
WISTA and PwC's survey into gender diversity and equality in the Swiss commodities industry has crucially identified a gender gap in perception when it comes to equality in the workplace – a stark indicator that gender diversity needs to be moved higher on the corporate agenda.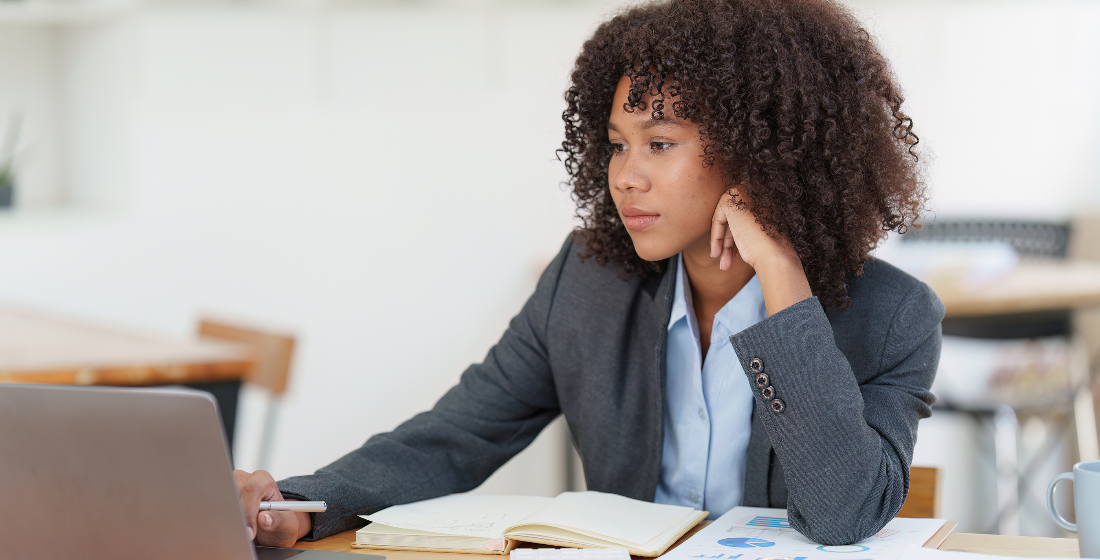 The last time I wrote an article on gender diversity in the commodities industry was in honour of International Women's Day in 2021. My first step was to find out roughly what percentage of the industry is currently made up by women; after all, it is difficult to comment on what level of change is needed and in what areas, without any initial data on at least a sample of the industry's employment breakdown.
This is the most basic of indications as to where the commodities industry stands on gender representation and equality. But sourcing even a basic breakdown of gender diversity in the commodities industry was a challenge. I found myself having to branch out to much more broad findings, such as a global study by Catalyst, which showed that women make up around 50% of the financial services industry overall, but that only 12% of CFOs in large-cap firms and 34% of CFOs in mid-cap firms in 2018 were women.
Whilst this is a good indicator of a blatant seniority gap between men and women, of which I assumed would also be the case if the study were to look at the commodities industry specifically, the lack of exact data on such could perhaps also be seen as telling benchmark towards how high gender equality is placed on the corporate agenda in the commodities space.
When WISTA (Women In Shipping and Trading Association) Switzerland, alongside PwC, took to the stage at TXF Global Commodity Finance in Geneva in October 2021 to announce the launch of their survey looking into gender diversity and equality in the Swiss commodity and trading industry, it was very encouraging to see that the first steps were being taken to fill this data gap with some promising industry-focussed research.
With gender diversity becoming more and more important within corporate strategies and the stakeholder lens, WISTA and PwC wanted to harbour some information on where the industry currently stands, and to find out if there is an opportunity gap between men and women, and how this could begin to be tackled.
The survey questions were split between HR professionals and employees, to gain an insight into both the respective company's politics/performance, and also employee perception/personal experience, with a total of 122 individual responses across various sub-sectors, including HR responses from 11 companies. Although the research was Swiss based, 90% of the responding companies were multinational.
The split of demographic was relatively equal, with women making up 60% of respondents, those 40 years old or younger accounting for 45% of respondents, and those working in senior, middle management, and non-management positions accounting for around a third of respondents each. Whilst this is not the most extensive sample size, the demographic split can be commended for ensuring that the results are not reflecting a large majority of women over 40, or men in senior positions, for example.
At first glance, some positives can be drawn from the results. The survey showed that on average, women represent 33% of total workforce, and hold 24% of senior leadership positions, both of which suggest that the commodities industry is above Swiss average, and ahead of many other sectors when it comes to gender diversity and equality.
Although above average is a good place to be, it is possible that within this small sample size, the type of companies that have come forward to take part in this survey may represent better quality gender representation than the rest of the industry as a whole. And as Maryana Stober, President of WISTA, points out, one third of the sample workforce being made up by women still represents a significant imbalance, especially when considering that the type of jobs that respondents have do not involve heavy manual work or travelling for months at a time, "so there is no reason to not have 50% representation of women", she says.
When looking at the HR aspect of the survey, whilst almost three quarters of respondents communicated that recruiting female talent was important to them, only half of these companies had set formal targets to track progress. In fact, it was found that the majority of respondent companies do not have diversity and inclusion policies in place as a whole.
This lack of implementation of formal policies, alongside a lack of communication around gender diversity and equality, has resulted in a disconnect in awareness across employee seniority. Although a huge 87% of senior employees said they're aware of diversity and inclusion priorities within their respective company, only 63% of middle management and 47% of non-management echoed the same sentiment. This suggests that senior management needs to improve its communication around these issues and implementing a formal diversity and inclusion policy would be a great place to start.
For me, the most interesting element of the survey results was the demonstrated perception gap between men and women when asked how they viewed equal treatment and opportunities between genders. Overall, the results show positive employee perception with overall at least 50% of respondents agreeing to the below statements. But once these answers were split into male and female respondents, it was exposed that men were consistently agreeing that there is equal treatment between genders at an at least 20% higher rate than women across all statements (see graph below).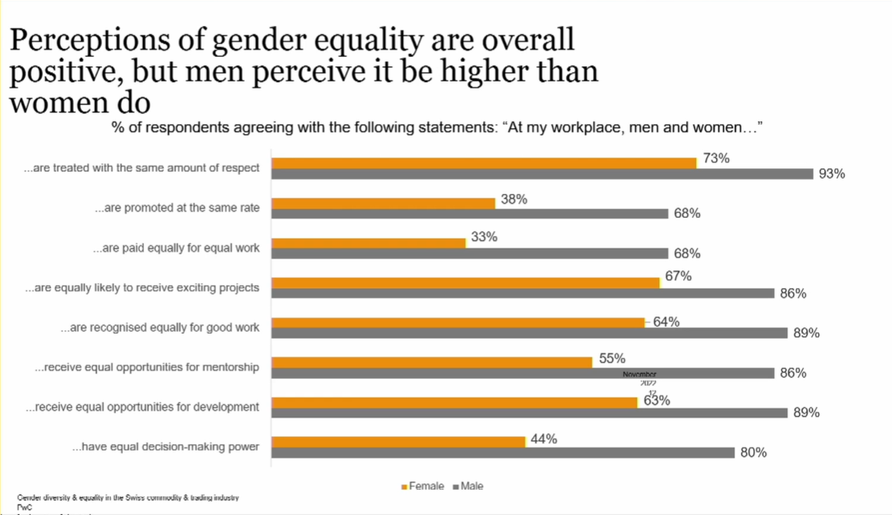 This gap was particularly prominent when it came to equal opportunity for promotions, with over a quarter more men agreeing that men and women are promoted at the same rate at their respective companies. Interestingly, this disconnect also remained more or less consistent across all levels of seniority, at 25% in senior roles, 21% in management, and 33% in non-management roles – showing that it is not just those that have not yet been promoted that believe this. Indeed, as referred to a few paragraphs previous, the fact that only 24% of senior leadership positions are held by women strongly suggests that these female respondents are making a valid point.
With just over three-quarters of senior leadership positions in the commodities industry accounted for by men, and these same men perceiving gender equality and equal opportunities in their respective workplaces to be at least 20% higher than women do, how can we believe the lived challenges and biases that women face in the workplace are being adequately tackled, or even sufficiently seen, at senior decision-making level?
Of course, achieving tangible change is a slow process, but the overall sentiment echoed by WISTA and PwC's whitepaper on their gender diversity and equality survey is the same sentiment I communicated in my IWD article in 2021: gender diversity and equality in the commodities space is a work in progress. Whilst the dial is moving, it is not moving fast enough.
But it is hugely encouraging that some good quality, industry specific data has been produced, which has identified precise shortcomings and areas that need more work – a key starting point if we are to instil real change. If industry professionals at decision-making level are to really utilise this research, then their first steps should be to work on translating the lived experiences of women better across gender lines in the workplace, to effectively establish formal diversity and inclusion policies that are tied to measurable KPIs, and to approach gender bias surrounding promotion with increased scrutiny.
Become a subscriber today for unrestricted access to the best export, trade and commodity finance analysis available.
Click here for information on the different packages available for you and your team
Exclusive subscriber-only content published last week:
African debt and the death of easy money
Alarms bells are ringing about Africa's debt pile. What are the key hurdles to debt restructuring and can ECAs play a greater and more transparent role.....Read on here
Full details revealed on Euler Hermes $3 billion backed loan with Trafigura
The $3 billion 'untied' loan backed by Germany's Euler Hermes secures LNG through Trafigura for Germany over four years....Read on here
Investec and UniCredit close deal for three hospitals in Angola
Investec and UniCredit have closed an ECA-backed facility with the Angolan Ministry of Finance to build three new hospitals....Read on here
BNDES to support Sao Paulo metro
Brazilian development bank BNDES is expected to back the project sponsors of Lines 8 and 9 of the Metropolitan train system of Sao Paulo...Read on here
Mercuria appoints Pfefferli as group treasurer
Trading company Mercuria has hired Marc Pfefferli as its new group treasurer....Read on here
Further details revealed on Lima Airport financing
More information has emerged in relation to the project financing of the Jorge Chavez International Airport expansion project in Lima, Peru....Read on here
EIG goes from bonds to bank market for Aramco oil pipelines
Part of the $10.5 billion five-year stapled debt financing that backed the EIG-led $12.4 billion acquisition of 49% of Saudi Aramco's oil pipelines has been refinanced....Read on here
Locals to bankroll Jafurah desalination plant
The recent Lamar Holding/Mowah winning bid for the $693 million Jafurah desalination project in Saudi is being debt financed via local banks....Read on here
AES closes Clean Energy take-out private placement
AES priced a $647 million private placement refinancing for its AES Clean Energy renewables subsidiary on 14 December 2022....Read on here
Further details on Major Bridges P3 financing
Further information has come to light about the financing of the Major Bridges P3 project....Read on here
Pre-development due to launch for Major Bridges second phase
The second phase of the Major Bridges P3 project is due to begin pre-development in January....Read on here
Calvin Capital refinances smart meter debt
Calvin Capital closed on its latest smart meter financing in early December.....Read on here