Cruise ships: The TXF Perspective
Region:
Middle East & Africa, Americas, Asia-Pacific, Europe
The cruise ship industry has suffered under the weight of low occupancy rates and a sizeable debt hangover since the pandemic. ECAs and banks are taking a cautious approach as they assess the sector's heightened risk profile. TXF Intelligence has taken a look at its data on ECA-backed financing to illustrate the scale of the challenge facing cruise operators.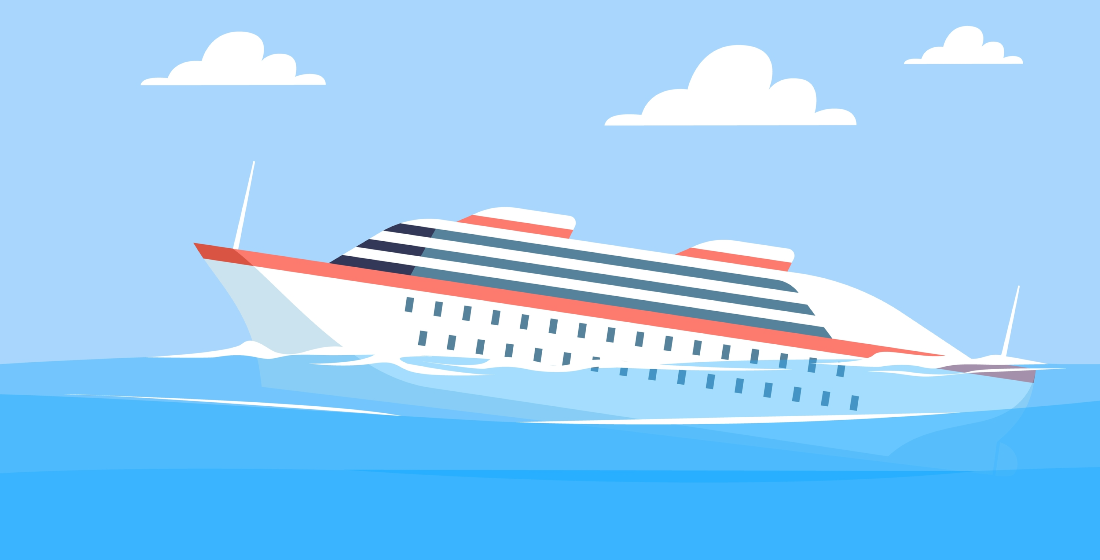 At the end of March, Life at Sea Cruises (owned by Miray Cruises) announced a new venture: a three-year all-inclusive cruise aboard the MV Gemini, taking in 135 countries and covering 130,000 miles, for prices starting at roughly $100,000.
The outlandishness of the offering is arguably a signal that at least some investors believe the cruise business still has a future after taking a severe hit during the global pandemic. But the post-pandemic recovery has been slow. Financial results from Royal Caribbean Cruises show that occupancy rates remained at 57.4% in Q1 2022, up from 37.7% in Q1 2021. The total occupancy rate for 2022 eventually reached 85.1%. It remains to be seen whether these figures will continue to rise; operators have said that bookings for 2023 are at record levels. In any case, bookings will not provide a quick fix for the debt hangover that faces the sector.
In the pre-pandemic era, the cruise industry boom was driven by tremendous consumer interest. Full occupancy was common as tour operators focused their efforts on mass-market appeal. As a result of this popularity, financing for new ships was never problematic. The billion-dollar question, of course, is whether banks and ECAs will continue to support the sector in the context of lower occupancy rates and decarbonisation pledges. TXF Intelligence has taken a look at its data to provide a comprehensive assessment of ECA-backed cruise ship financing over the past six years.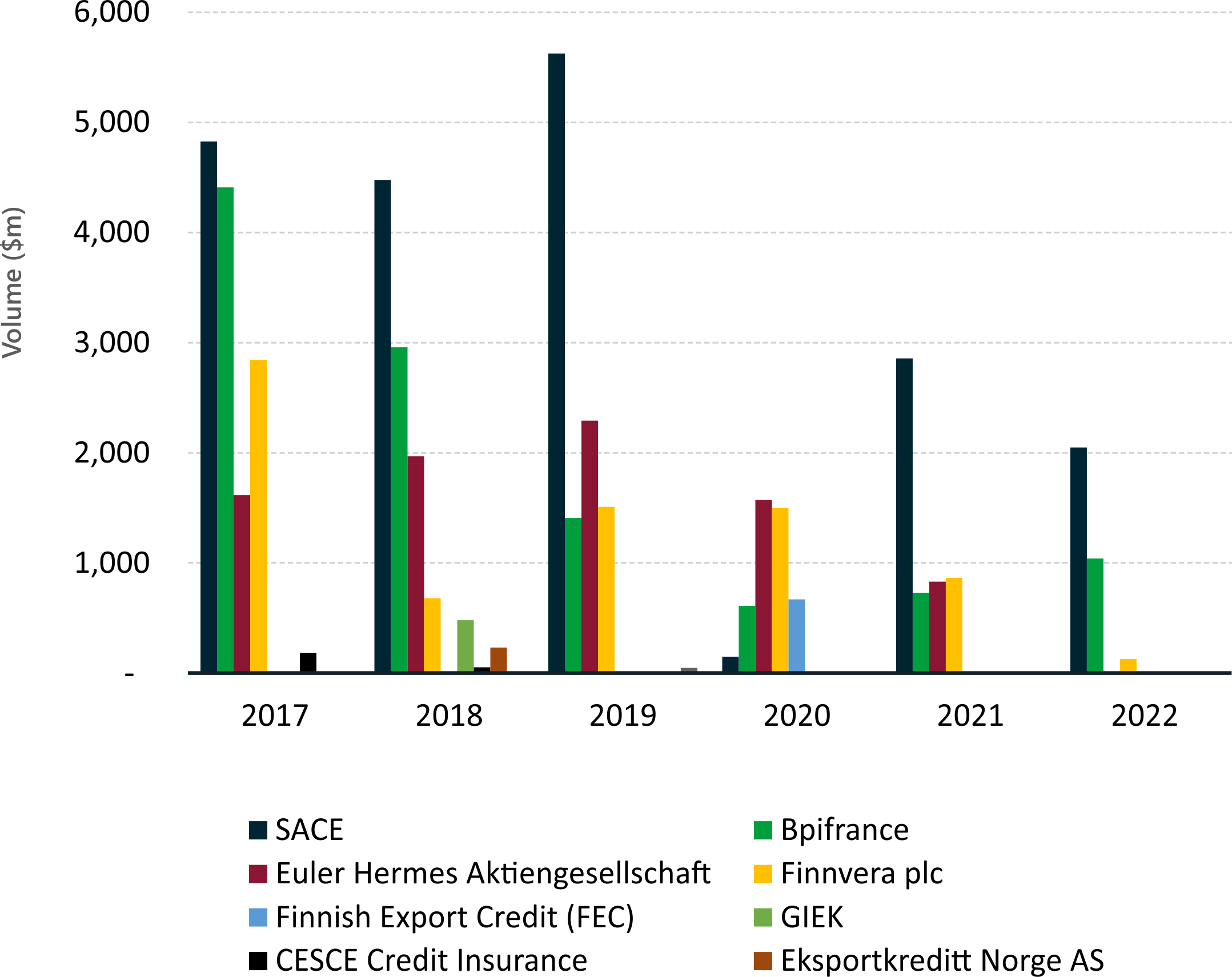 Source: TXF Intelligence
While the price of admission for a modern cruise won't break the bank, the ships themselves do not come cheap. Since 2017, TXF has recorded more than $48 billion in ECA-backed cruise ship financing over 137 deals. It is by some distance the largest sector for ECAs within the shipping industry, although this changed somewhat since the pandemic. From 2017 to 2019, cruise ship borrowers were able to secure more than $35 billion of ECA-backed funding. Across these three years, this represents almost 90% of export finance volumes in the shipping industry recorded by TXF.
Since 2019, the industry has been understandably sickly; new orders were delayed, ECAs provided debt holidays, and many operators turned to commercial debt to survive. The impact was immediate: in 2021, cruise ship financing reached $5.3 billion, and in 2022 it fell to just $3.2 billion. This made up just 39.1% of export finance volumes for shipping in 2022. While it is still comfortably the largest shipping sector, ECAs have shown increased interest in LNG carriers and container ships as the world grapples with an energy crisis and ongoing supply chain challenges. Sources say that more banks need to be tapped now to ensure that syndications have enough capacity.
The industry's biggest lenders since 2017 include BNP Paribas ($6.7 billion), HSBC ($3.6 billion), KfW-IPEX Bank ($4.5 billion), Cassa Depositi e Prestiti S.p.A ($7 billion), and Credit Agricole ($3 billion). The top four ECAs are SACE ($20 billion), Bpifrance ($11.2 billion), Euler Hermes ($8.3 billion), and Finnvera ($7.5 billion). ECAs are often incentivised by the importance of specialised shipyards and operators like Fincantieri and Chantiers de l'Atlantique to their respective industries.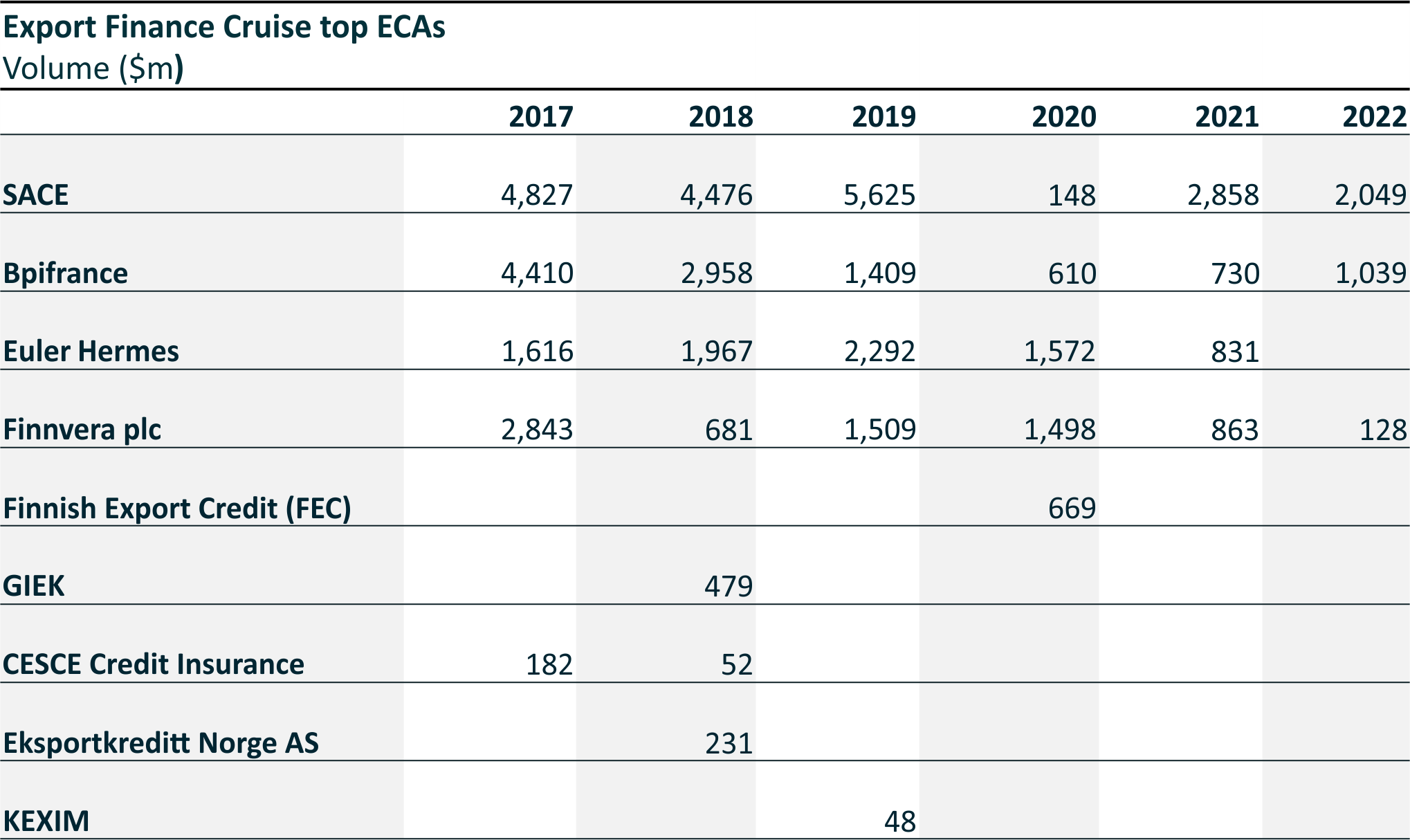 Source: TXF Intelligence
There is optimism within the industry that normal service will resume soon. Alongside the promise of record bookings, ECAs including SACE have made it clear that they intend to support the cruise ship sector into the future. Shipyards have reported that their order books for new vessels are still full for the coming years, even if that demand was weakened by the pandemic. In this post-pandemic landscape, the renewed pressure to decarbonise presents an urgent challenge to the industry. For now, the export finance community will wait to see if these promises are delivered.
Read on for more on the cruise ship sector's struggles in the post-pandemic era.

Become a subscriber today for unrestricted access to the best export, trade and commodity finance analysis available.
Click here for information on the different packages available for you and your team
Exclusive subscriber-only content published last week:
RPC refinances Finnish wind farms with ECA-backed debt
London-headquartered Renewable Power Capital (RPC) has closed a long-term ECA-backed refinancing package covering the Rustari, Puutikankangas, and Merkkikallio onshore wind farms in Finland. The deal replaces an existing short-term construction bridge loan.
Gulfport Energy amends RBL facility
US E&P oil and gas independent Gulfport Energy Operating Corporation has completed its spring borrowing base redetermination.
Greek irrigation and dam network project tender progresses
The Tavropos irrigation network and the Minagiotiko Dam and irrigation network schemes in Greece will have confirmed bidders by the end of 2024, with the shortlisting phase expected by July 2023. The Hellenic government is keen to deliver the PPP projects to its time frame due to deadlines set by the Recovery and Resilience Fund, from which the projects are benefiting.
Further details on Dieppe Le Treport wind farm project financing
Further information has come to light regarding the project financing of the 500MW Dieppe Le Treport offshore wind farm. Sponsored by Ocean Winds, Sumitomo Corporation, and la Banque des Territoires, the project will be located in the English Channel, 15.5 km off the coast of France.
Balikpapan oil refinery financing priced
The roughly $3 billion ECA-backed financing backing Pertamina's upgrades to its Balikpapan oil refinery in Indonesia is due to reach financial close this month.
Euler Hermes financing for Angolan HEP project closed
Acting as bookrunners and initial mandated lead arrangers (IMLAs), UniCredit and Commerzbank have closed a €1.5 billion ($1.65 billion) Euler Hermes-backed facility for Angola's Caculo Cabaca hydro-electric power (HEP) project. The official borrower is the Ministry of Finance (MoF) of Angola.
ONE-Dyas secures $450m facility
ONE-Dyas BV has announced a $450 million reserve-based lending facility with a six-year tenor. MLAs on the deal were ABN Amro, Credit Agricole, Deutsche Bank, DNB, ING, Lloyds Bank, and Wells Fargo.